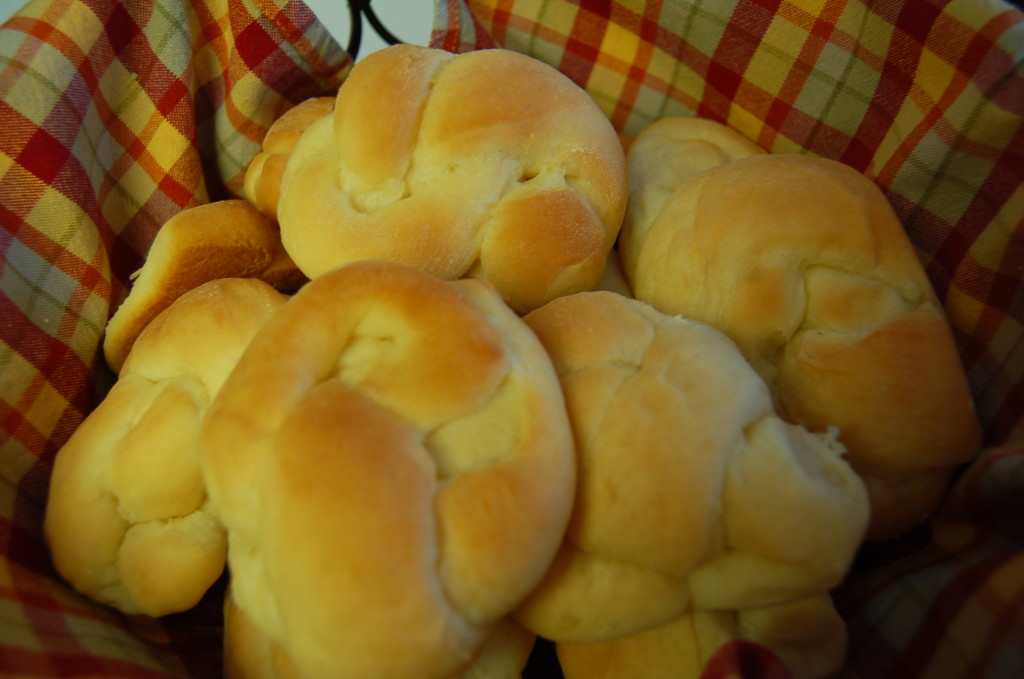 Sue Buehner taught me how to make these rolls and I always think of her when I'm making them.  I love how they look tied in a knot!  So this recipe originally came from the Junior League Cookbook but I changed it a little.  I don't like to cook with shortening so I substituted butter and olive oil.
2 pkgs. dry yeast
1/4 c. warm water
3 eggs, well beaten
4 1/2 c. flour
1 c. warm water
1/3 c. butter & 1/3 c. olive oil
1/2 c. sugar
2 tsp. salt
Soften yeast in 1/4 c. water.  Let stand 10 minutes.  Combine dissolved yeast, eggs, 2 1/2 c. flour, 1 c. warm water, butter and oil, sugar and salt in a large bowl.  Beat until smooth.  Add remaining flour to make a soft dough.  Cover.  Let rise until double in bulk.  Punch down and refrigerate overnight.  Three hours before baking, roll out as desired.  For dinner rolls, divide dough in half.  Roll each half into a 1/2 " thick rectangle. Tie in a knot and push ends together.  Place on a greased cookie sheet, cover and let rise 3 hours.  Bake at 375 degrees for about 10 minutes.  Delicious!!!