I'm so grateful for dear friends.  Years ago, when our children were little some couples in our ward would take trips together.  We'd head to Sun Valley for skiing and leave our children and responsibilities behind.  And then we would ski and I mean ski.  This was in the 80s and Nate and Alex were little.  The year Michael was born, January 1988, we took him with us.  We would start our day by running in the freezing cold, and then race back to the condo, eat breakfast and change into ski gear.  When we reached the resort, we would ski hard until lunch, take a short break and then ski again until 4:30, after the last lifts stopped running.  We then headed back to the condo, changed into swimsuits, and then lowered our tired bodies into the large round heated pool, steam rising high over the water.  I would feel my body relax so much so that sleep would seem the next logical step.  But not to be, back to the condo we'd go, then off to dinner and maybe a movie.  I remember being totally exhausted by the day's end but satisfied that I had used my body and my time well.  Next day, same thing and then again the following day.  When we arrived home after three full days of skiing, my legs would be shot but I would be buoyed up in spirit because of the fun we had enjoyed.  These are the kinds of friends that have influenced me for good, and have made me want to strive to live life to the fullest.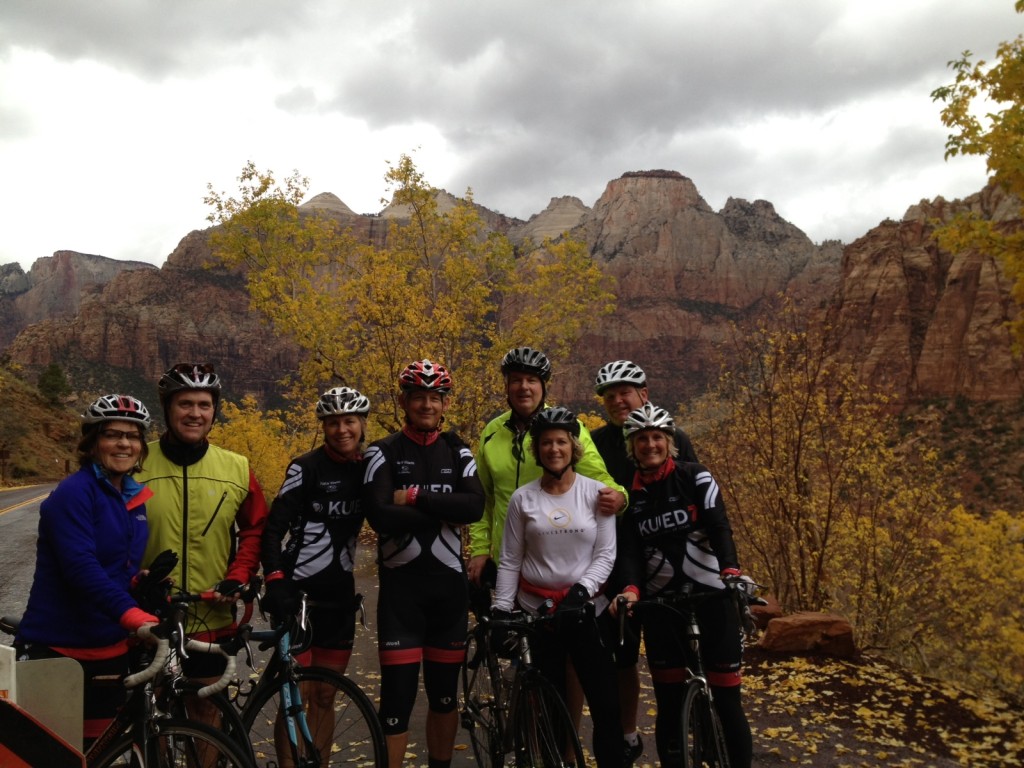 A few weekends ago, we traveled with some of these friends to St. George to stay in Scott and Patti Clements "Little House in the Desert" and I might add to that description, perfect and darling.  We were not inconvenienced by bad weather, this group wouldn't allow for that, but instead we drove into Zion's National Park, loaded with bikes on our cars, and waited for the rain to clear a bit, then started off to the tunnel.  We climbed the mountain talking and discussing any issues that needed our attention and then rode back again.  After fixing two flat tires, the weather took a change for the worse as rain that turned into slush, turned into hail.  We got back to the cars a bit wet but nonetheless happy to have completed this adventure.  Soon, we found ourselves at Oscar's sitting outside under heated lamps enjoying a delicious meal.
Our Zion's bike ride was just a warmer-upper for the next day's adventure.  We would ride 50 miles, through Gunlock Canyon, stop at Veyo, a hill Joe and I understood well, for scrumptious rhubarb pie. Then over the hill and down through Snow Canyon.  And did I mention that the temperature sat at 37 degrees while rain and snow threatened ahead.  Patti, Scott, Mike and Linda would make it all the way.  Kathy and Keven to Veyo and Joe and I would be sidelined with a flat tire right before Gunlock Canyon.  We were rescued by a caring father with his cute little four year old, Ada, in a pick-up truck who drove us back to the condo.