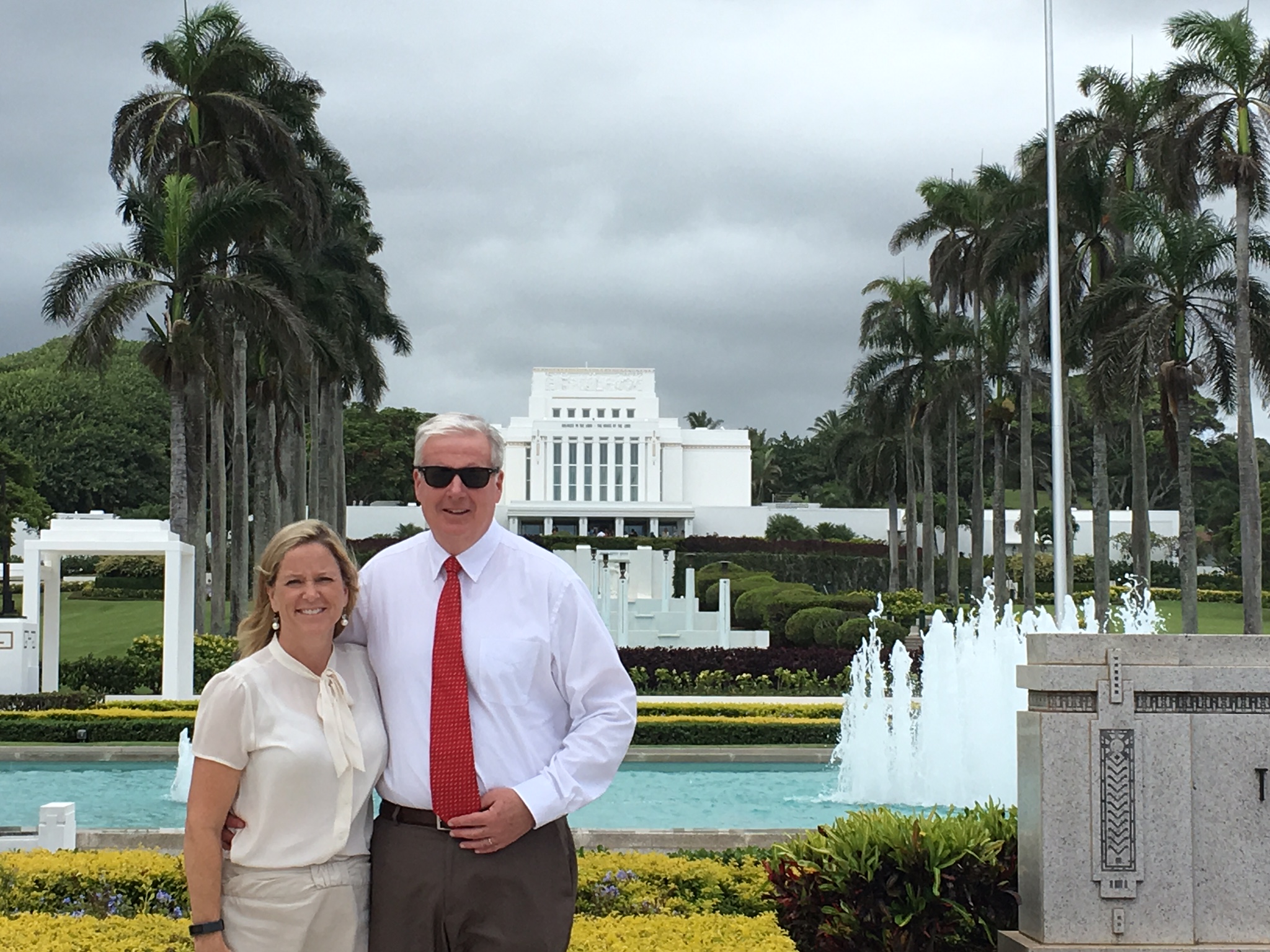 Joanie and Joe at the Laie Temple on the North Shore of Oahu, November 2015
I am anxiously looking forward to my arm and hand feeling better so I can type easier.  It is one of the reasons that keeps me from the computer.  It is slowly getting better, but the word is slowly!  Last night, my ward and neighbors started a community fast for me and another woman battling cancer, Margaret Sevy.  I didn't realize they were starting the Fast the night before @ 8:00 P.M. and I had Mary and Joe Joe over and really I just didn't want to be there and be the spotlight so I didn't attend.  But today, I got to bear my testimony at the pulpit.  I told them how much I loved and appreciated the ward for doing this for me and I didn't feel like I deserved it.  I told them about when I got the diagnosis, the only thought was that I wanted to be with my family, and I told them that I knew why I came to the earth and that I was at peace and ready to go to the other side.
I want to put in this blog the sweet words of a young man who is watching his wife suffer with a brain tumor.  They have young children and I find that so incredibly sad!  His name is Cody and his wife, Lisa.
"While I personally don't have to suffer through the physical pain and anguish that you and Lisa have, I have had a front row seat to the ordeal. And I have unfortunately had to suffer much of the emotional agony and heartache associated with cancer and it's unforgiving attack on my wife. I have struggled with feelings of sorrow and feeling cheated. I feel cheated that the love of my life is going to most likely die far too young. The way we met and fell in love is honestly like a fairy tale. I feel cheated that I don't get to grow old with her. I feel cheated that I won't have her help and support to raise our four young kids together. And I feel cheated that at this stage of life instead of worrying about the more trivial aspects of life like most of my friends have to worry about, I am instead having to worry about some very complicated, very heavy, and very difficult problems.
I hate that this challenge is completely out of our control. I have a very type A personality, and I love to be in control of my life. This powerless feeling as I watch my wife's cancer repeatedly come back drives me insane. It's not like if we just try harder, if we just think harder, or if we just put more effort into recovery that we will be able to beat it. Yes having a good attitude helps, but ultimately when you have a stage 4 brain tumor, the cancer will take your life. That doesn't mean that cancer wins though. I love the words of Stuart Scott, "When you die, that does not mean that you lose to cancer. You beat cancer by how you live, why you live, and the manner in which you live," he said. "So live. Live. Fight like hell. And when you get too tired to fight, lay down and rest and let somebody else fight for you."
Those words instantly bring me to tears. I love them. They are so true. They are words to live by. For me personally, I have to look for the good in life. Cancer sucks. It's really rotten and there is no way to sugar coat it. But, as terrible as Lisa's three brain tumors have been, we have still been able to find joy and beauty in life over the past four years. We have made a conscious decision to look for the good that surrounds us. As a result I have found immense joy in some of the most simple things like sunrises/sunsets, my children laughing, and just sitting next to my wife while watching a movie.
Above all else, I believe that to truly be able to find peace and joy throughout a harrowing trial like cancer, one must have a belief in a higher power. It is essential to believe that there is more to this life than our mortal existence. This belief can help you to transcend the pain, the heartache, the struggles, and the suffering that we experience in life. For me personally, my belief in a loving God helps me to face these challenges. I believe that God is watching out for us and that he wants us to be happy. This belief has been strengthened by powerful feelings of peace and comfort as I have turned my heart and life over to Him. I have experienced an undeniable feeling that everything is going to be alright. Whether that means that Lisa lives or dies, I can't say, but I can say that the Lord will be there to help us, to carry us, and to comfort us regardless of the outcome."
Polynesian Cultural Center, Laie