The weather is finally warming up and even though we have piles of snow and ice around the driveway, it actually looks a bit like a tunnel as you enter, it feels as though we can go outside again to exercise.  It must be February!  Truly, no one in my running group wanted to venture out, especially with the ice.  But today Joe took off, I'm sure for Millcreek Canyon, his favorite locale to run.  And he likes to be by himself making his way up "Mother Hill", over the crest and then along the milder incline of the canyon road.
We have seen many deer in our yard.  The other day, Taylor wanted to construct a hill which he would fashion into a ski ramp before his rail when he hesitated because of the large buck sitting and finding relief from the snow under a pine tree in our backyard.  As soon as Taylor came out of the back door, the buck moved on its way.  Taylor shoveled and shoveled forming a large mound.  I love to watch Taylor busily working in the backyard.  He is a productive person.  He never watches T.V. and always uses his time wisely which is really satisfying to a parent.  But as I watch Taylor passionately working at something he loves, I know the time is short that I will have this pleasure.  We have been teasing him, only half-heartedly, about how much time he spends at Katie's home.  He has been eating a lot of dinners there and so I know I must reluctantly let go of this boy who soon will be off on his own.
Yesterday, I spent the day at Skyline overseeing the annual "Service Scholar Open House".  35 students did at least 170 hours of service to earn this award and it was a pleasure reading their portfolios and being the advisor over this program.  I thought at the beginning of the school year how I would like to turn this program over to a teacher at Skyline but after seeing the student's works, I want to continue on.  I am amazed at their accomplishments and their reflections regarding their growth through service is inspiring.  I have such hope in youth when I see what they are capable of.  These 35 somehow got out of themselves as teenagers and in helping someone else, helped themselves. And I loved seeing my former colleague at Skyline, everyone is so compassionate and caring, asking how I am doing.  Although, I am so glad for my time there, I love my life now and love having time to do the things I want to do, especially being able to tend Maggie and Kate when needed.
And I read from the book, The Happiness Project by Gretchen Rubin, something that resonated with me.  One of her "commandments" is to "Be Gretchen".  And I've thought about that and have made one of my "commandments" to "Be Joanie".  I have spent way too much time trying to be like or act like or have the characteristics of someone I thought was cool or kind or happy or a number of adjectives and it is only through years of growth and coming to really understand and love myself that I know I want to "Be Joanie".  And I know I'm not alone in this.  Why do we fight our own greatness or perhaps fear that we are not great enough for so much of our lives.  I think we are all attracted to someone who is confident and happy in being themselves, despite their imperfections.  So why are we so afraid of being ourselves? And so here's to loving what is uniquely our own!
Service Scholar Open House @ Skyline with Hannah and Ezzy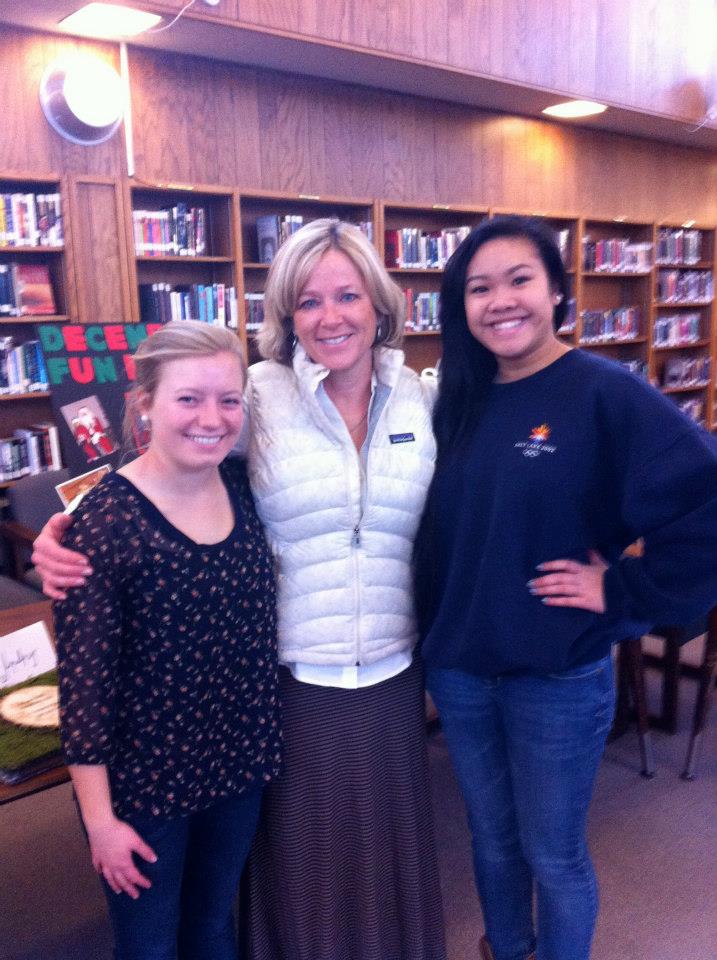 Taylor building a ski ramp in backyard