Quote of the Week:  "Perfect people don't need a Savior.  He came to save his people in their imperfections.  He's not embarrassed by us, angry at us, or shocked.  He wants us in our brokenness, in our unhappiness, in our guilt and our grief."  Chieko Okasaki
Yes, I'm on vacation but don't think for a moment that Lynne is not on my mind.  I go through all the phases of feeling angry that her breast cancer returned when it shouldn't have.  She had the easiest kind to treat which means highest percentage of hope that it would never return.  I wonder each day if mine will follow the same path.  That is one of the hardest parts to deal with mentally- is there a cell out there that will attach to bone, liver or lung and if there is then there is nothing I can do at this point.  No amount of healthy eating or lifestyle will change things.  And then I think of the suffering and if you could chose how life will end for you- would you go slowly so that you would have time to say your good-byes or would you prefer to go quickly and not suffer?  It's all so depressing but those thoughts keep returning.  It's not something we have control over so what's the use of worrying?  
The Tetons were good for me.  Just being in nature for so many hours of the day- spending time just enjoying family and taking in incredible views and glassy water.  Then there is also this thrill of hiking along the trail that leads from Bear Paw Bay- hiking through the woods knowing there are animals all around you but wondering whether any will cross your path.  Last year, on the String Lake Trail, we saw a black bear with a white stripe.  It showed no interest in us and since we had just started our hike and because this trail is traveled by so many, we kept going.  This year, we hiked the trail again- theraputic for Nate since he is most worried about bears- but met none.  
It has been 6 weeks since chemo and 5 since the mastectomy so I am starting to feel really good- reminiscent of the old me.  I was hesitant to climb on a bike while I was doing chemo- just felt a little shaky but was able to ride again on this trip from Moose to Jenny Lake Visitor's Center.  There is a memorial trail separate from the highway that is about 14 miles round trip.  It was liberating to experience this ride.  The Grand Teton looming large overhead, wind blowing through my helmet onto the little hair that covers my head, and flowers lining the trailside.  And of course, the occasional spotting of the dragonfly that always lifts my spirits.  I wear my dragonfly earrings given to me by Patti every day because they symbolize hope.  
I could bear my testimony about Jackson Lake.  It is incredibly beautiful. We spent a bit of time for several days searching for the "hot springs" but without luck.  We were close just couldn't find where the water temperature was anything but very cold.  We have never experienced this many days of fabulous weather.  It rained a few drops, literally, while we were there.  That's it.  Every day we awoke to a blue sky and said to ourselves: "We better get out on the lake, should a storm come up, but it never happened".  One particularly beautiful and calm day, the water felt a bit warmer, the air temperature felt hot and I jumped in the lake and wake-boarded. It was liberating.  Thinking about it, I was afraid I would fall and what would I tell the surgeons but it was glassy water and I pulled out a bit of my past self  by taking the chance.  The water is shocking cold at first and then you adjust but the best part is getting out, drying off and then your skin tingles.  Maggie (3 1/2) jumped in the first day with her dad, Nate, thinking it was like pool water and what a shock.  She kept jumping in but by the next day- would not get in the water.  Finally, a few days later we blew up the tube and she found she loved tubing more than being warm.  She insisted on tubing with every person in the boat, except Kate (1).  When she was ready to go with Alex, she exclaimed "Alex, you are too fun for me to handle."  
Maggie and Alex tubing on Jackson Lake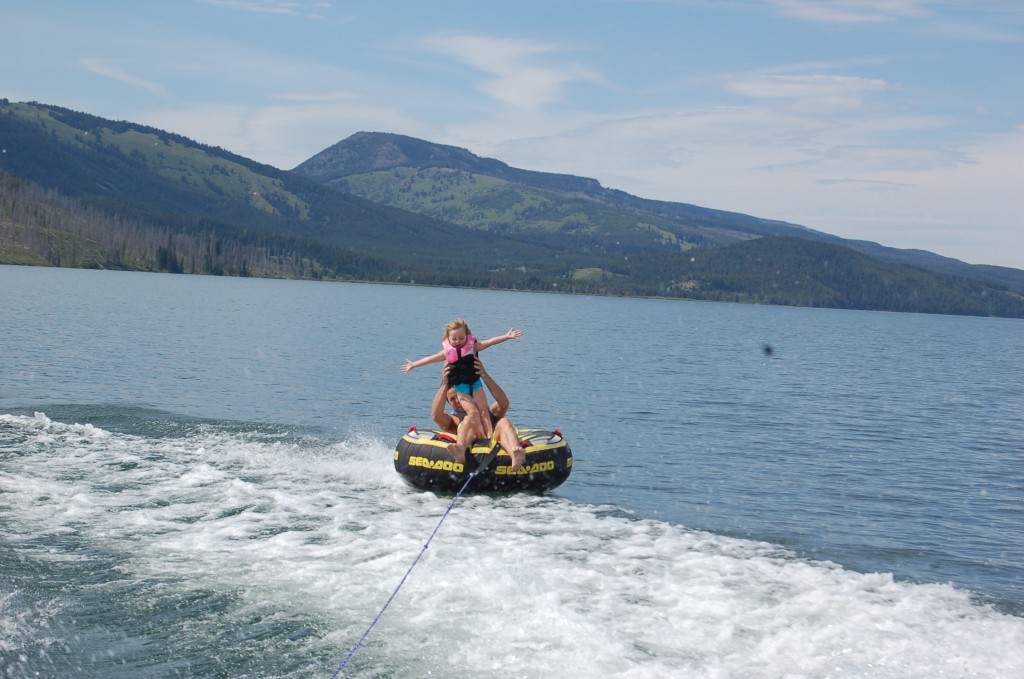 On the bike again-  Joanie on Jenny Lake Trail