Quote of the Day:  "I have always had a wonderful time wherever I am, whoever I'm with."  James Stewart
Exercise Log:  Jen, Patti, Denise, Sue B. and I walked toward the dirt trail that parallels Wasatch Blvd.  We crossed over a "No Trespassing" sign to get onto the dirt trail.  Really, that has never stopped our group.  Apparently, we don't think those signs apply to us partly because it leads to public lands.  We went 4.95 and then later that day in a push to complete my miles by tomorrow, Alex and I went up Millcreek to do the Salt Lake Overlook trail.  I wanted to see if the ground covering had blossomed yet and while some of it has small, dainty, white blossoms, most of it is still this amazing color of green.  Alex told me that there is a remote tribe somewhere in the world that has a different name for 30 colors of green. I can believe it when I see all the variations of green in this forest.  We went another 4.88 miles (+3.88).  We came to a part in the trail where Alex noticed a whole group of dragonflies- don't know if there is a name for that-  it was magical.  Seeing a single dragonfly is amazing to me-  well imagine seeing a whole bunch of them- maybe as many as 20 or 30.  It felt like a sign!
Joe and I visited the plastic surgeon today to set up next week's surgery.  I really like his manner and the way he explained everything to us. I appreciated how he intends to watch this procedure very carefully after the initial surgery is completed, meaning I will be visiting him a lot in the next few weeks to ward off any infection.  The surgeon will put in saline implants now and then 3 months after radiation, put in silicon implants.  That way I can try out the size and then make any adjustments.  Joe made 2 comments that I thought were quite funny.  He said something like "How do you rate in life by getting the job where you get to measure and draw on women's breasts?"  Then Joe related getting new breasts to getting new carpet.  You might think this is a stretch but hear me out.   A few years ago, we had a leak under the sink in our bathroom.  It caused some water to soak into the downstairs carpet and pad.  When the insurance adjustor came to examine the damage, he recommended that the carpet in all of the family room be replaced.  We were only too happy about that!  So here's the point Joe wanted to make.  A new boob job could make a 52 year old women look, maybe not new, but pretty darn good and if you just have to have the surgery since you have the BRCA 1 gene, well…  Oh, my!  Joeisms!
Alex walking across log over ravine-  I prefer the trail.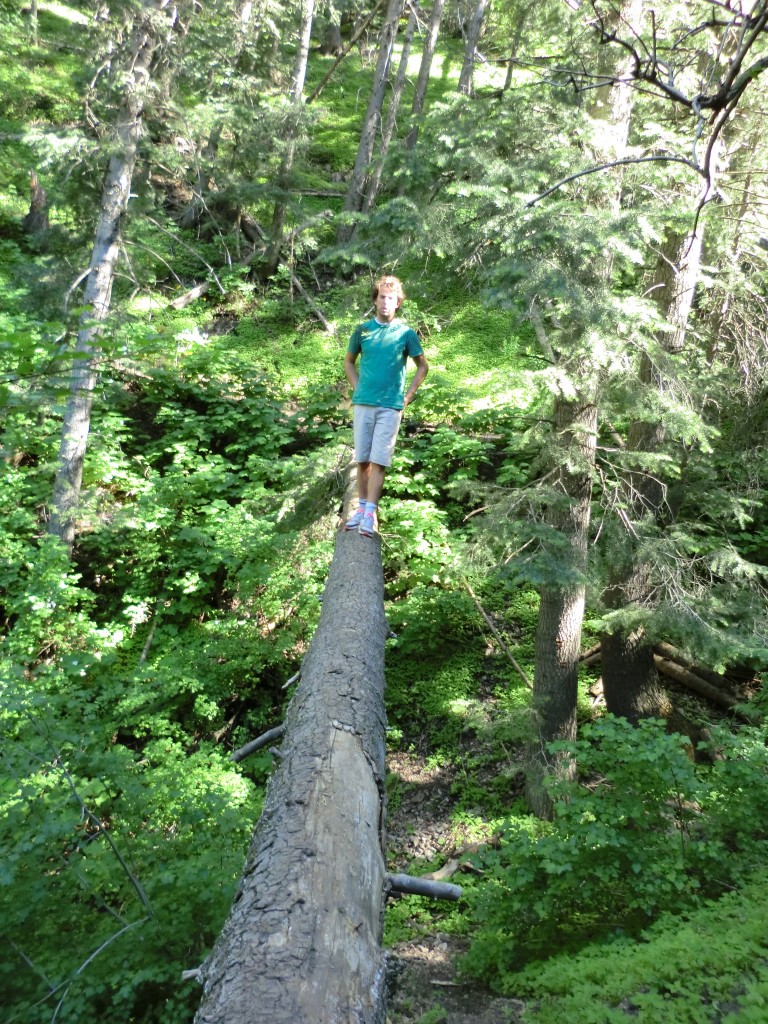 Alex at turn-around- SL Overlook Trail