Quote of the Day:  "Thankfulness is the beginning of gratitude.  Gratitude is the completion of thankfulness.  Thankfulness may consist merely of words.  Gratitude is shown in acts."  David O. McKay
When I was shopping with friends this week, I found an exercise shirt that says "Run Happy", great font, looks happy.  I love wearing it.  Joe and I went about 5.5 miles on Friday to the overpass by Parley's Canyon and I even ran up the first "gut-buster" hill, without stopping to walk.  It was exhilarating!  I felt great.  I could go about 2.5 miles without walking.  As a runner, those days that you feel super good are rare and maybe that's why I got so pumped about it.  I wish I knew specifically what made me feel so good that morning.  Was it the food I ate the day before or perhaps the day before that? Maybe really restful sleep?  Who knows?  Anyway, I could make some real progress towards this marathon if I felt that good running everyday.  
But Saturday, we were staying at our Park City condo and right across the street, literally, is the trail head for the Armstrong Trail.  When we hiked this trail in Autumn it was amazingly beautiful, now all the leaves are gone, pines are still as green, but there is this beautiful, soft blanket of snow covering the ground.  But, since Mother Nature hasn't dropped much snow so far this season, the trail was tracked down and very doable with just running shoes.  We saw a few people with dogs and running crampons on their shoes but we were just fine with our running shoes.  It's a bit harder to hike/run on the snow.  Your foot slips a bit with every step and so you work different muscles.  Joe and I hiked for about 2.5 miles, Alex ran ahead and then would come back and walk with us. We turned around at a clearing and we had this great view of the King Con Ridge at PC Mountain Resort.  I kept Alex in site coming down the trail for about 3 minutes, and then he was gone. Youth!  This was truly "soul food".  The sky was this bright blue, the snow so white, temperature was perfect, about 25 degrees.  My face felt alive with the coolness tingle.  I loved being outside and alive and have so much gratitude for being able to enjoy nature.  I love that in an hour, you can hike to a place at the resort where people take a chairlift for skiing and snowboarding.  
Nate, Mary and the girls were in PC with us and I watched as their lives are so full with these little girls.  They are working, Nate's in school and life is incredibly busy.  We keep reminding them that life won't always be this hard, that if you keep moving in the right direction with education, it will all pay off in the future.  I remember when my children were little and I thought I would be changing diapers and putting kids in strollers forever. Having a moment to myself was non-existant but it really does pass.  Now when Joe and I sit alone at church, the time our kids were little seems like such a long time ago.  I could hear the family behind us today, trying to keep their kids quiet and in control.  First of all, their children are beautiful and I love hearing children's voices.  They have one more due in January and I made sure to tell them how lucky they were to be in this stage, that it does pass way too quickly and to enjoy it!  Before Nate was born, my Grandma Vernessa helped  me make a cover for his infant seat.  It was full of padding and tied like a quilt.  An older man stopped me one day, looking at Nate in this seat, and said "Don't make life too comfortable for him, or the rest will be hard."  I remembered these words, perhaps because I respected this "older" perspective or just because it did strike me that this child was sitting "pretty" upon this nice padded seat.  I've thought a lot about that idea in life.  If it's too easy, if we get everything we want, do we really appreciate all the lessons we've learned?  I pray for things to be easy every day, and maybe it's a good thing that it doesn't always happen.  Maybe, we really do feel better about ourselves when we have had to struggle to accomplish great things.  What would a college degree be worth, if someone just handed you a diploma?
Joanie on Armstrong Trail, Park City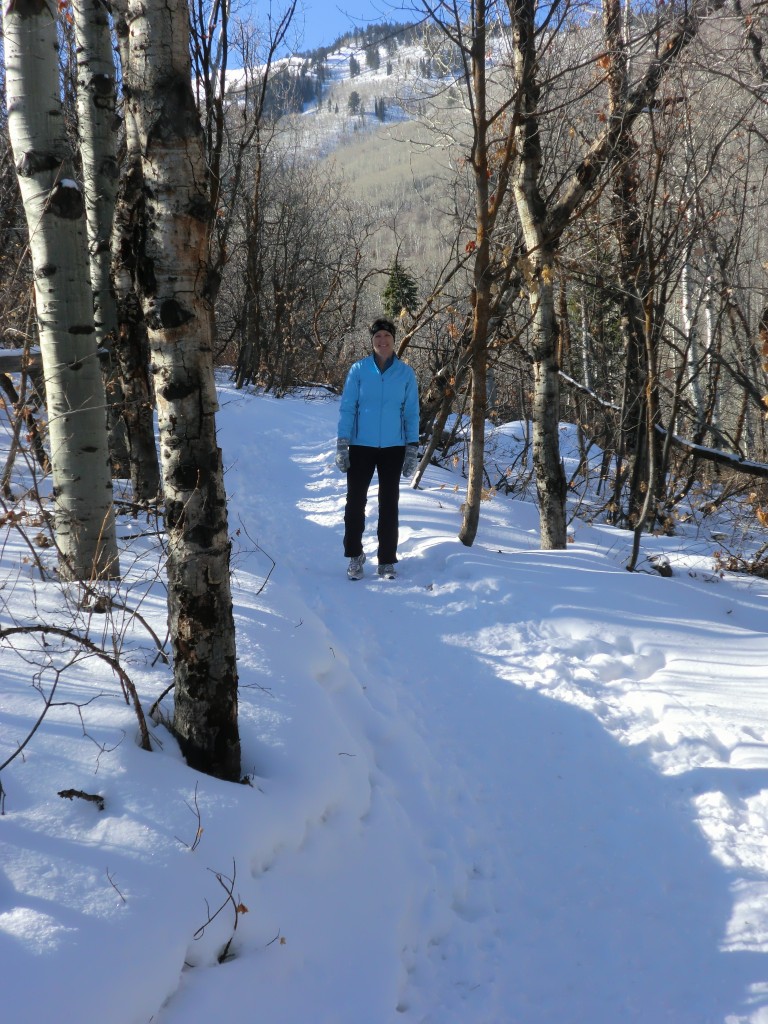 Maggie enjoying life in the bathtub, Unibrow due to stiches