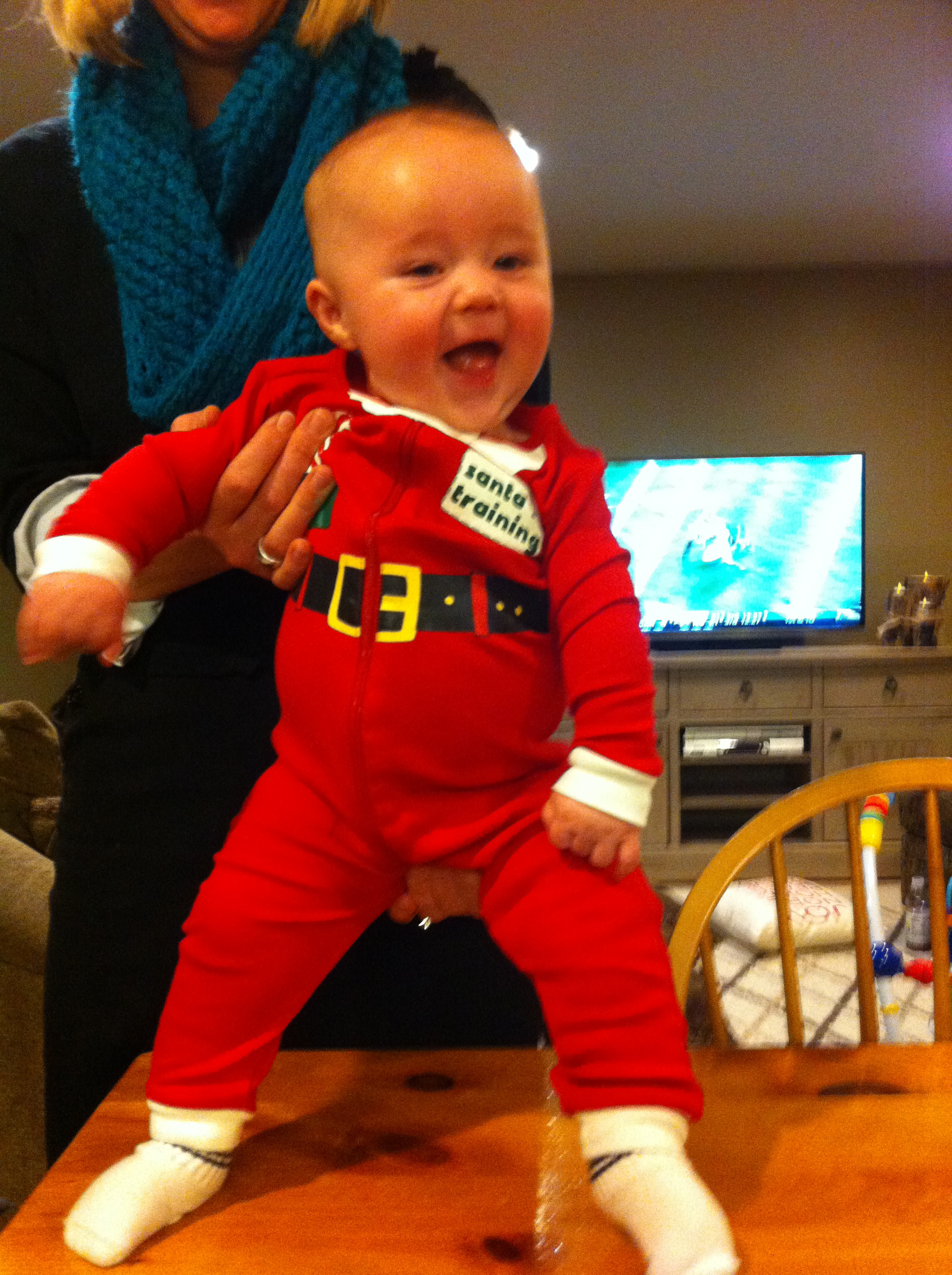 Baby Joe Joe at the first of the Season!
I must admit that this December has found me quite frazzled much to my dismay.  I really like to have my affairs in order and I like to be prepared for up-coming events and I like to enjoy life.  I really don't like all the pressures on my time and I find it takes away from every other aspect of my life.  I stop exercising so that I can fit in the other less important but urgent stuff.  And this Christmas season, with all the added responsibilities in my life, Young Women's, Skyline Teaching, Tennis & Tutoring, managing the condo through VRBO to name some of them, have taken their toll!  I really can't do everything!  It has come through loud and clear.
And to top it off, I got a really bad cold which is no surprise since Maggie, Kate and Joe came down with it a few weeks earlier and I can't help but be around them and to continually kiss them.  This cold took me out for a good three days and then lingered on reaching the week point and then just kept going.  And to top it off, I decided to paint my entire upstairs during the month of December.  Note to self- not a great idea!
All of this stress and not feeling great felt like life and its responsibilities was caving in on me.  I definitely have not been as patient and kind as I would hope to normally be.  I'm jumping to conclusions, assuming the worst instead of the best, and I am definitely not letting things just roll off my back.  I really have needed a "reality check".  I missed writing in my blog and being able to express myself.  I must remember to do the things that really matter because they keep me centered and loving life.  All the rest, seems to be just busy stuff such as running from party to party but not really wanting to go, not wanting to really be there when I get there and glad when it's over.  That is some crazy living!
But my friend, Heidi, mentioned something that I have held on to.  She said that she read an article where a person tried to change up how she gave gifts at Christmas.  She decided to give gifts of the heart!  So during the season she gave these 5 gifts to others:  1- to a friend, 2- to a stranger, 3- to a person-in-need, 4- to an enemy and 5- to the Savior.
I have thought of this a lot and really find the hardest one to be the gift to the enemy.  Friend gifts are easy.  This year, I've had an incredible experience with a stranger that has turned into a friend and a person-in-need that I will relate in my next blog.
I just want to say as I close this blog that I am so fortunate to be alive- that is not lost on me and so grateful to have such an amazing husband and children and children-in-law (which really feel like my own!)  I am what you would call BLESSED!!!
Baby Joe Joe on Christmas Morning!