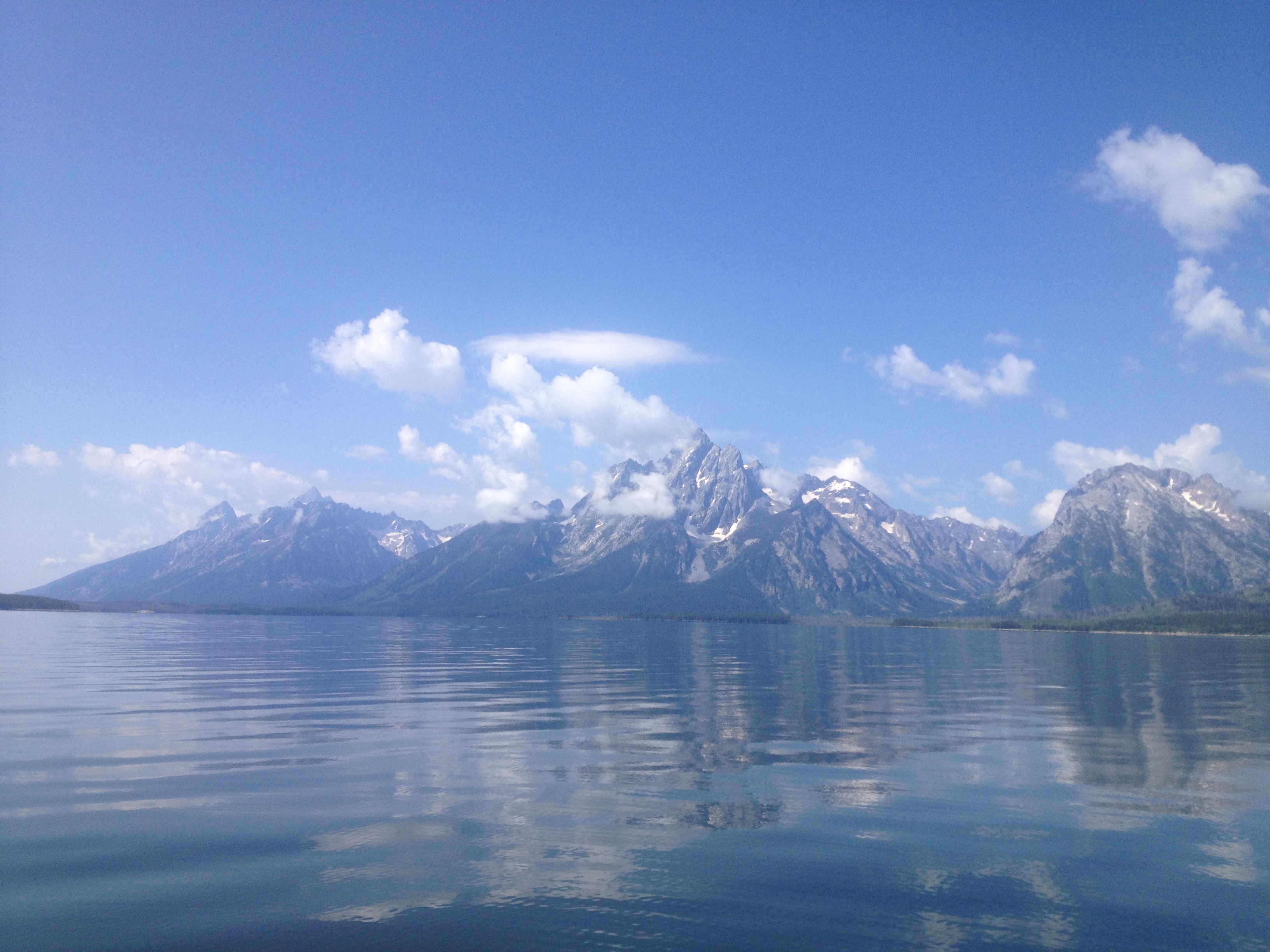 Heaven on Jackson Lake- my favorite place on earth!
We just returned from our favorite vacation spot.  We have been going to Colter Bay since 1985, the summer I was pregnant with Alex.  That makes it 29 years that we have been enjoying Grand Teton National Park and almost that long that we have been hiking on those trails and swimming in Jackson Lake.  This mountain lake feels like it has healing properties and even though it sometimes takes your breath away when you jump in, it is always worth the plunge.  I always come out of the water so glad that I enveloped my body in its dark and deep waters.  When I was dealing with some of the harder parts of cancer, I would try to envision Jackson Lake- its beautiful setting beneath the Teton Mountain Range and I would try to see the blue reflection on the glassy surface and dream about when I would be there again.  I love being there on our boat surrounded by my lovely family.  We have so much fun together, recreating in the water, cooking dinner at the tent cabins and hiking the amazing trails- sometimes watching around each corner for bears.  Last year, Nate had had it with being afraid of bears because he knew that we all liked to hike and so he would just have to come along, and he bought bear mace.  I have to admit that I was comforted to have the mace with us this year especially since we heard the reports of increased bear activity around String Lake and Swan Lake.  We did see a bear, up high in a tree on Phelps Lake but it posed no problem.  It was fun just to watch it from the trail with a lot of other people.  This year, we were missing Mike and Elle and Katie and Taylor. We wanted them there. I'm happiest when all my family is around. We have so much fun together- everyone laughing and mocking certain things. I was really proud of myself for spending the first night alone in the tent cabin with only Maggie and Kate. The cabin has a door that it locked by a small hook and yet we hook it when sleeping somehow comforted by that face but really knowing it wouldn't keep a bear out. Every year I'm sad when I have to say good-bye to the Teton range as we drive into Jackson and it becomes hidden. The first year after I was diagnosed with cancer, I looked at the mountains and felt like I was pouring my soul out to them about what I had experienced that year. That's how sacred those mountains are to me- they feel like old friends that I can confide anything to. I remember thinking "What if I never make it back here or see them again." Really that is too hard to imagine. I want to enjoy them for so many years to come- with all my grandchildren! I always have a difficult time getting used to the busyness of life in Salt Lake again. I yearn for those daily mountain hikes and dips in the lake. I am grateful to get it some time during the year but it makes me want to change up my routine and enjoy nature more all year long. I come back refreshed by determined to make some changes in my life. I feel like Katesy, who started packing a bag for next year, the day we arrived home.
Outside our tent cabin prior to packing up and leaving GTNP!