Oh, Happy June!
Quote of the Day: "Sleep, riches and health to truly be enjoyed must be interrupted."   Johann Richter
Exercise Log:  Sue O., Sue B., Sue's friend Callie, and I walked 3.11 miles (-2.36) around our neighborhood.  It was a beautiful morning- definitely shorts weather.  Pictures of Balsam Root and the Sues at end of today's blog.
I had so much fun with Laurie yesterday.  I was amazed at how much she did for me with her visit.  She arrived at 8:40 to pick me up for my appointment and like all my chemo-buddies, she came to my appointment with me, watched me as the got my port ready for the infusion and was just as supportive as can be.  There are many people who don't have a support group- it's really hard to see them sitting there alone getting an infusion.  I have so enjoyed meeting new people each week and hearing their stories.  I had told Laurie that she would see a lot of older people getting chemo and yesterday was the opposite.  There were too many young people.  I sat next to a girl named Jill who was 47 getting her 3rd treatment of TAC.  Her veins were hurting as they were putting the chemo in and they had to take out the IV and try other veins.  They finally got it working and could give her the "Red Devil" or adriamycin.  It was hard to look at the syringe.  She was darling and upbeat and had on the cutest scarf.   I was grateful that I had a port put in.  Mary joined us at chemo and it was so fun to talk to Mary.  Laurie and I talked later about how Mary is 1 in a million.  She amazes us that she has this gift for making people feel good.  She came in and asked Laurie all these questions about her family sincerely listening and always has great stories to relate to what you are saying.  I love Mary so much-  I am so grateful that she is Nate's wife and raising our grandchildren!
So Laurie brought me some gifts:  How Green was My Valley (a book I have wanted to check off my lifetime books you should read list) and a cookbook by Sheryl Crow and Chuck White called If it Makes you Healthy.  I am so excited to read them and use the cookbook.  As you may know, Sheryl Crow is a breast cancer surviver and so made this cookbook with healthy living in mind.  She was diagnosed with breast cancer 5 years ago and "taking her illness as a wake-up call,… was determined to find a way to eat more healthily both on the road and at home".
After we finished the infusion, I was treated to lunch at the Dodo.  Seriously, I am so indebted to my friends!  Laurie and I shared their amazing Caramel Crumb Cake- best dessert ever.  It did not disappoint, even with the metal taste in my mouth.  We then headed to the new pioneer film called 17 Miracles at the Conference Center Theatre downtown in Salt Lake.  I was an extra for this movie last summer- spent the whole day and night on the set- absolutely getting my fill for ever wanting to be an extra again.  My friend, Donna Pizza, was also an extra and could be seen in the film, she said that I was in the background of one part that I totally missed.  When I got home @ 6:30, Sue B. had brought over dinner-  Salmon fillets in parchment paper, vegetables, fruits, homemade bread, gingerbread cake with cream cheese frosting topped with a raspberry-  evidence of Sue's amazing cooking and proof that I have hardly dropped a pound during chemo.
So.. that would normally have been a full day for someone getting chemo, but knowing that I have energy due to the steroids to counter-act any allergic reaction to Taxol, Joe and I decided to run to some stores to check out their plants.  I was able to get some bushes and decorative grasses for my flower beds.  Today I will do the planting, knowing that the next 3 days will be my crash days.  After the other treatments, I received Neulasta today (this drug helps build red blood cells), but they called and said that my numbers look really good and so I don't need to have it.  The side effects from Neulasta are bone pain, which I haven't experienced at all so it will be interesting to see if it makes a difference.  I have always gotten a cold after each treatment, so we'll see if I get one this time.
Balsam Root on Mount Olympus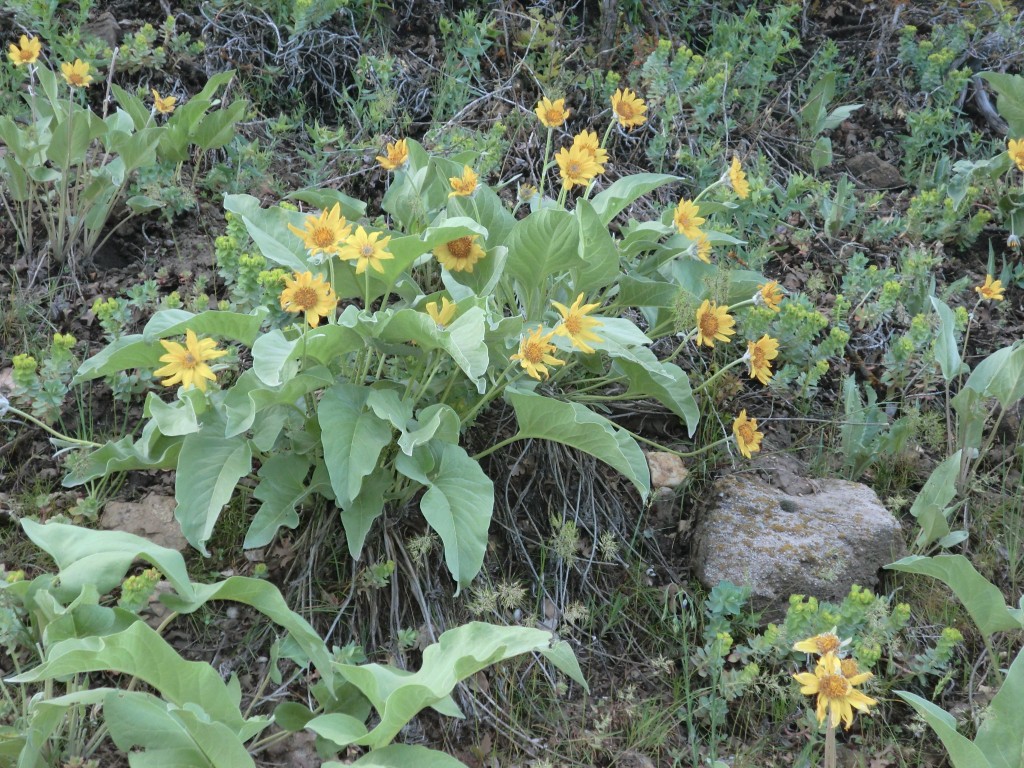 Sue O., Joanie and Sue B. on morning walk