Quote of the Day:  "I truly believe that it is our job to teach children how to learn, how to love, how to live and how to be happy."  Katie Garrett, Skyline Service Scholar 2012
I spent the day at Skyline helping with the Service Scholar Open House.  Service Scholar is a program I love and helped start in 2000.  To receive this award, students have to complete at least 170 hours of documented service to their school, neighborhood and community.  30 students have turned in their portfolios thus far which were on display in the media center.  So, along with Katie and Melissa, the amazing student directors, we set up the portfolios and posters and watched as students and parents came to view their works.  I loved reading their observations, and I did read all 30 portfolios, because so many of the students reflected on serious world issues gaining an understanding of the people they served.  When you look at all the service these young people have done, you feel hopeful about the future.  Katie Garrett even dedicated her portfolio to me at which I was extremely touched.  It was fun to be back at Skyline, especially knowing I wouldn't be back the next day.  Everyone is very friendly and sincere in asking about my health.  I'm really glad to have the difficult events of last year behind me.  I'm glad to feel comfortable with my hair.  I still sometimes catch myself thinking I will have to grab a hat or scarf to go out in public and then it hits me, oh no I don't, I have hair.
I do really miss the interaction with these students and grateful that the Tennis & Tutoring program fills that void.  I've been so fortunate that great things have landed in my basket, such as Community of Caring and Tennis & Tutoring.  Both were introduced to me by Linda Dunn so I better stick close to her to catch what else she may throw my way.  Yesterday, only 7 TNT students came to learn tennis because it was an early school day for them.  Katie Jensen and I didn't know if any would come but sure enough our core group of 4 boys arrived, and then 3 others came.  I thought they would just want to stay until 4 but they wanted us to teach and play with them until 5.  Katie has a great way of teaching and working with kids.  She understands how to teach them tennis basics and can relate it to their world.  We got them running, played a game, fed them some balls working on their strokes and played some more games.  The tennis pro next to us stopped to watch them for a minute and then said: "They're getting so good."  Katie and I were beaming at that compliment.  We get so happy when they make a great shot.  During one rally, Francisco dove for a ball and hit a clean winner.  He couldn't stop talking about it.  Then after we cleaned up the court and came into the lobby where they wait for their parents, Francisco was still there.  He was worried because they had just moved and he didn't know his mother's phone number.  He did, however, know where he lived and asked if I would walk him home.  He lived just a few blocks away and it was only raining lightly.  We walked down the street and he told me about the houses and who lived where.  I like walking because you get such a sense of the neighborhood and that is exactly what I did.  I saw hardworking people trying to make it on a limited salary, trying to give their kids a better life than they had.  Katie and I have decided that we want to coach a team of TNT kids, those who work really hard and love to play, this summer.  
Katie Garrett's portfolio dedication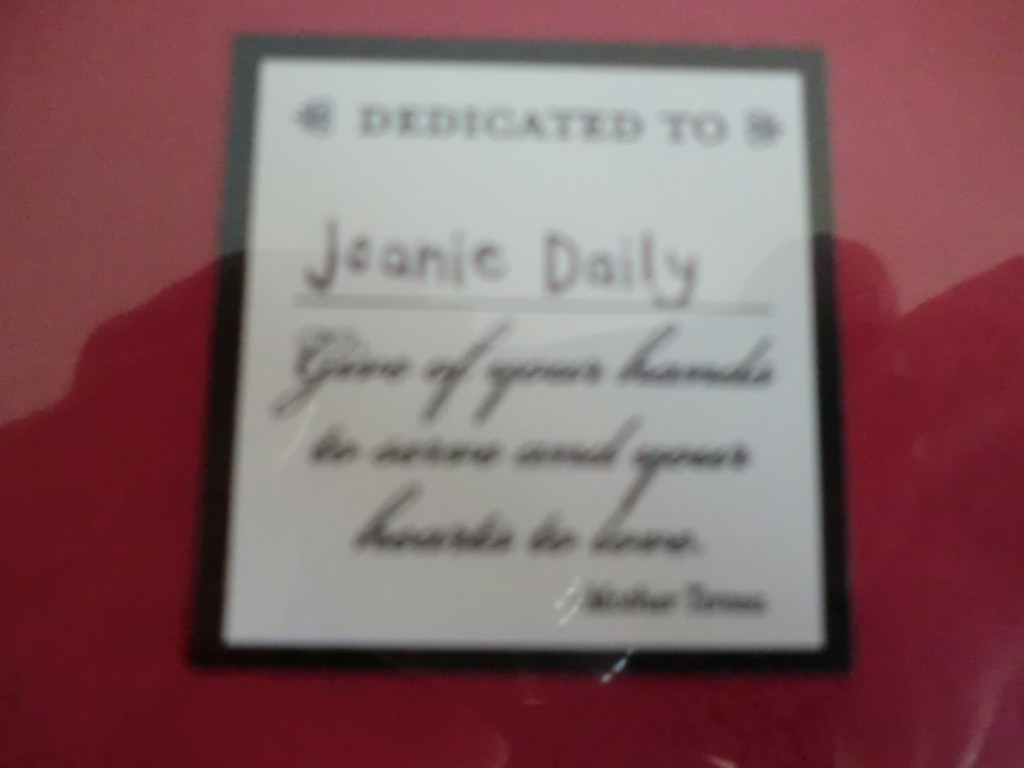 Community of Caring Students