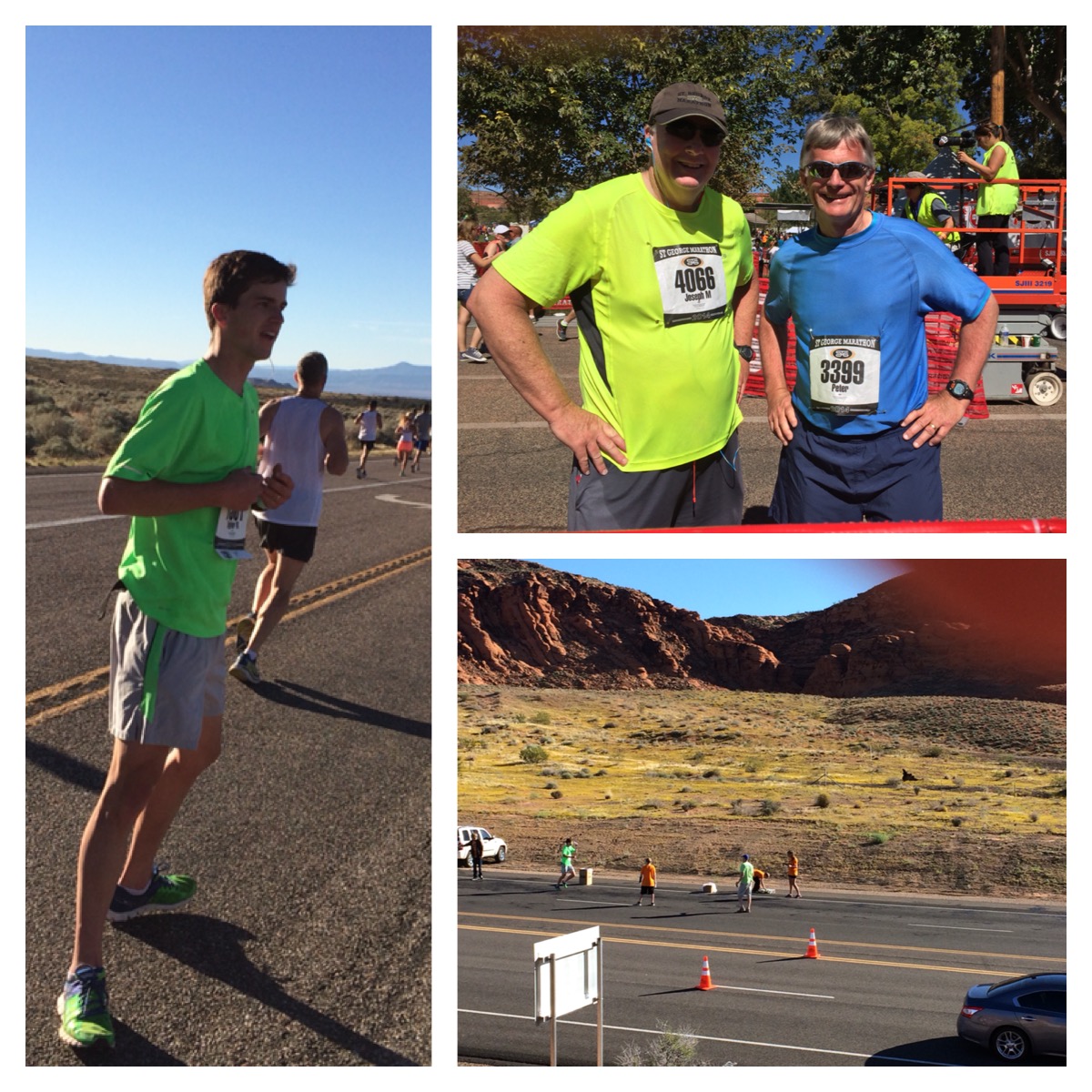 Taylor at Mile 16, Joe and Peter at Mile 23, Taylor along course running fast!
Last week, we headed for St. George so Joe and Taylor could complete another marathon.  Taylor was well trained and very in shape.  He had trained by running and biking and was logging faster miles and feeling stronger as the marathon date grew closer.  I was excited to not be running the marathon and looked forward to sleeping in when Joe and Taylor rose at 4:30 A.M. to be on a bus by 5:00.  This marathon course is really my favorite with the highlight coming at mile 16, after you come around the entrance that leads to Snow Canyon, and you see a large group of spectators and especially family members.  When I ran the course, I would always get emotional as Mile 16 loomed closer.  But this year, Alex and I got up on marathon morning and rode our bikes to the top of Snow Canyon.  It's a steep hill for a while up the canyon and gets even steeper as you reach the top, at which point the road is lined with cars and people are walking to view the runners.  We left Grandma Janet's house a little late, and Alex went ahead and so the entire time I was riding I was up against a deadline fearing that I would miss Taylor.  Luckily, the marathon started late and when I got to the top, after a period of time when I was pushed to the limit of my riding, I saw Alex and he informed me that the race got a late start.  So, I had not missed Taylor!  Alex and I waited for about 10 minutes and Taylor came by running a fast pace and looking good.  Alex and I rode our bikes on the path that followed the road the racers were on.  I loved experiencing the marathon on my bike!  But more than that, I loved watching Taylor run the course.  Alex and I could hardly keep up with him on our bikes. We kept stopping to take pictures of him on the course and then hurried to get to mile 25 so we could see him come by.  We waited and waited and finally realized that we either missed him or he was hurt.  We went to the finish line where Alex spotted Katie.  Taylor was with her!  He had finished and qualified for Boston by less than a minute.  He had a great race but Katie had been hit by a car while on her scooter.  She had come to a sudden stop when the car in front of her stopped and then the car in back of her hit her.  The car didn't stop and furthermore no one stopped to help her and so she left her scooter at a store and walked to the marathon finish.  She was scraped up on the right side and was in shook.  Alex rode his bike back to Grandma Janet's to get the car and then took Katie and Taylor to the emergency room.  They cleaned Katie's wounds, wrapped her ankle and sent her home with some salve and medicine.  We were so relieved that she was ok.
I rode my bike back to Mile 23 and waited until Joe and Peter came by.  They had spent more than twice as long as Taylor had on the course and they were hot and tired.  Joe was glad to have the marathon over.  He commented that he would look for a different sport, something definitely but not marathoning!
When we leave St. George and drive home from the marathon, it feels as if we are saying goodbye to summer.  It's officially over, weather-wise, it seems to us.  I love Fall but I am always sad to say farewell to summer.  I feel really great physically, except for some light-headedness that happens when I stand in front of a class or group of people.  That started first of October.  I hope it goes away. My body feels really great and I am extremely grateful for that.  I love being able to get up to the mountains and do some hiking before the snow really hits up there.  I am so grateful for good health because it affects everything and really is the barometer for my motivation.
Katie's scooter injuries! After emergency room visit.