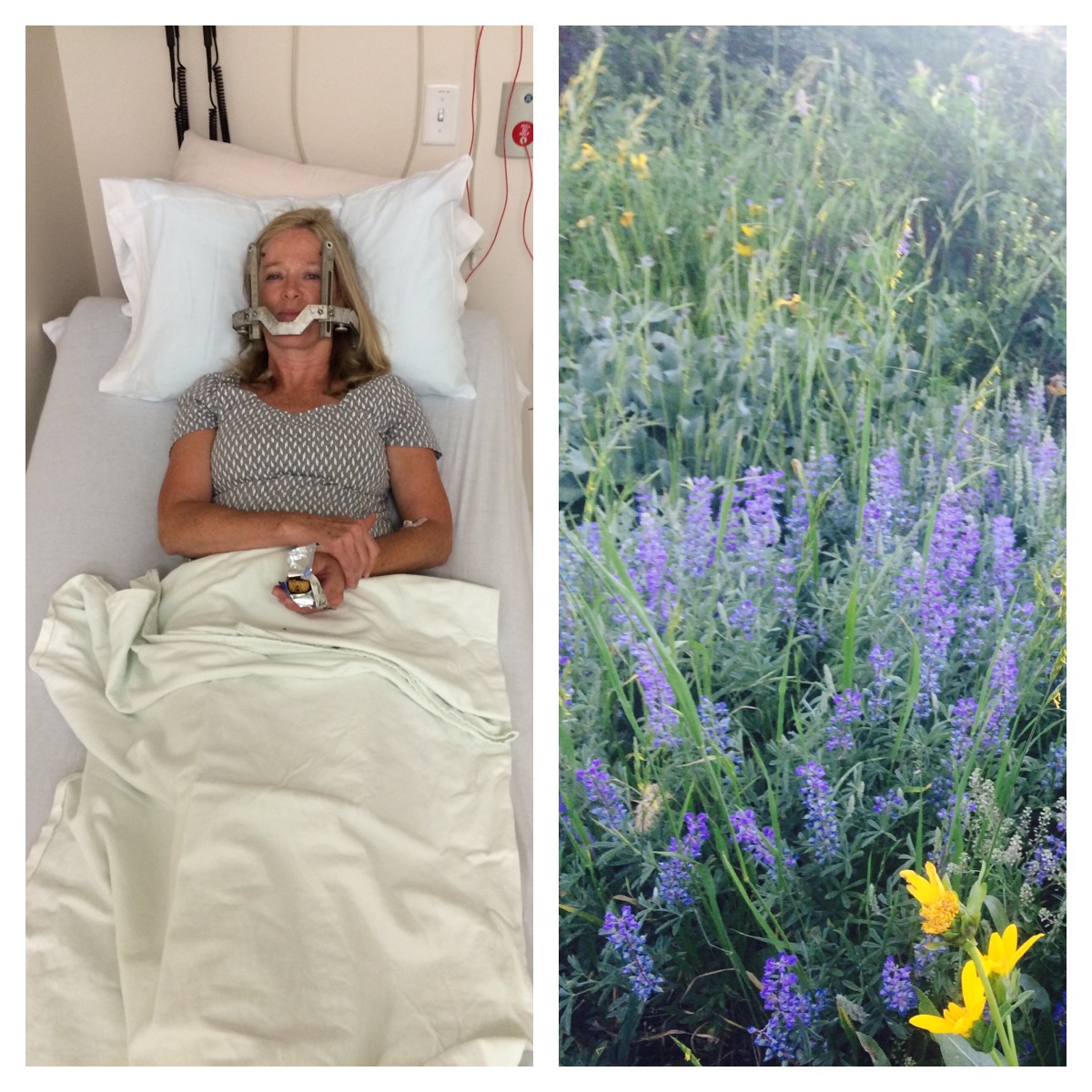 Gamma Knife Treatment in morn, hiking on Park City Trails by night!
On Wednesday, July 1st I went in for Gamma Knife Treatment for two tumors that were discovered through an MRI on June 19.  I felt really calm about having this procedure and am so grateful for that! I feel so blessed in the medical care I have received and have had so available to me.  I am grateful to live in a place where there are caring and understanding medical staff and I'm so grateful that I have such great insurance to cover these procedures.  They all try to make the experience as painless as possible.  So Gamma Knife requires 4 screws, yes really screws, that go into your head and hold a frame. I had a catscan and MRI to determine and map where the radiation laser will go so that those tumors can be annihilated and gone for ever! This time, they gave me an IV where they also administer a drug that helps you "chill" when in the machines.  It worked.  I went into the final machine and felt fine.  Thinking about it now, it seemed that time passed quickly.  They played music for me and talked to me about what was going on.  We arrived at the hospital at 6:45 A.M. and got back up to Park City about 1:00.  I took some time laying down, watching Federer play at Wimbledon and later that evening Joe and I took a hike.  It really is amazing that you can have a procedure like that and then feel so good after.  The rest of the week, I took it easy but really didn't change much of what I would normally do.  It was great to be up in PC with Nate, Mary and the kids.  Alex was up there and Katie and Taylor too.  Mike and Elle were in California so we missed them.  About a week after the treatment, I noticed swelling around my eyes, especially my right side where the treatment was done.  Today, 9 days later, I have had very few side effects.  I have run, played tennis, road biked and everything else.  I have noticed no change in my motor skills, no marked tiredness, and no headaches.  Amazing!
So there is a comedian, Tig Notaro, who I really think is funny.  She has had cancer too and went on stage a day after she found out.  She does a brilliant show and talks about the statement that a lot of people say and I for the record, think is pretty ridiculous.  It's this:  "God never gives you more that you can handle".  She paints a picture of God saying to the angels about someone on earth dealing with a lot of adversity.  God says "I think she can take a little more" and the angels are worried.  They say "No God, I think this is all she can handle" and God says: "Let's try just a little more."  I have felt like I was that person many times with this cancer diagnosis and recurrence.  And when I tell you the latest in my trials, I think you might agree.  So my story goes like this.  When we were in Hawaii, we went on a Zodiac Boat ride on the Napali Coast in Kauai.  It was a rough water day as we bounced on the ocean and for six hours we suffered and hit the huge waves over and over.  The next day, my body was extremely sore and so of course I knew what had caused that but for a while my left arm has been giving me troubles.  I noticed it first a few months ago as pressure in my wrist and then sometimes pain that would shoot down my arm and then after that Zodiac Ride, it was full borne hurt but an odd hurt.  It felt hot and really tender to the touch and prickly and painful.  I went to see a Sports Medicine doctor and they thought maybe a pinched nerve.  They gave me a muscle relaxer that I never took but really they never could diagnose anything and the pain kept increasing.  Finally, I went to see my oncologist and they ordered an MRI for my upper back, also thinking a pinched nerve.  But yesterday, I was talking to a friend who is also a nurse and she was telling me about a time when she had shingles and she described what I am going through on my left side.  It is so extremely painful because it is constant and tender and makes sleep hard and I was so excited to wake up this morning and call the doctor, cancel the MRI and get a prescription for shingles.  I just hope when I wake in the morning, that the pain is noticable lessened or dare I hope for gone!  I will be sleeping on a bunk at Girl's Camp next week and I could really use some pain free days and night.
Mostly, I want to stop talking about me and enjoy my family, play with my grandkids, enjoy this beautiful summer, gaze on some beautiful flowers and read a book that totally takes my mind off my world!
Hiking a few days later (really I feel so strong).  Silver Lake and Ontario Canyon hike.  Joe and I forming a heart on top of the world!