Clear thinking is always the first thing to go.  It's the season, I know but yesterday as I scrambled at the last minute to make home-made rolls for our family Christmas party, I marveled at how I had forgotten until 2:30 P.M. that day that I was assigned rolls along with a salad.  So, I hurried to raise the yeast and put all the ingredients together and then started to roll it out well aware that the consistency was not right.  I went back to the recipe and realized I had forgotten some liquid.  Long boring story short, I threw that batch away and started again.  Somehow, we got the the party at 5:00 with hot rolls.  Then much later that night, I realized I had forgotten to take day 11 of the 12 Days of Christmas to Nate, Mary and girls.  Good thing Maggie had a sleepover and was not waiting for the package to arrive.  Obviously, I'm overloaded but it got me thinking about how we get sucked into the commercialism of the season.  We start with good intentions, then the season gets away from us and all we do is get more stressed out by the time Christmas finally comes around.  So instead of feeling joyful and generous, festive and refreshed, we drive aggressively to get to the next stop or we hurry by all the lovely Christmas books in the basket, never opening the cover and we miss out on what it really means to "keep Christmas in our hearts".
And I really do want to keep Christmas in my heart.  Here's what I love best about the season; the music.  This year it came in the form of the neighborhood Messiah.  I was moved by the sharing of talents.  I just sat there looking at all these people who had put in countless hours developing their art, and then being able to make that melodious sound come out of their instrument, and here am I, the benefactor, without any effort on my part.  What a glorious gift!   And then the Tabernacle Choir Christmas Concert- rushing to get there and then sitting in the amazing Conference Center waiting for the show to begin, warm and comfortable, all the cares left outside and behind (except for Nate's eye infection) and then looking at my children and their loves and feeling really great about life, and a bonus of hearing Alfie Boe sing Bring Him Home and letting that song touch my entire soul!  Then up to Midway, Utah for a horse-drawn sleigh ride, singing carols as we traveled along with snow falling around us.  Maggie knowing each word to every carol and Katesy singing along catching the last of every word because she will not be left out of anything! Then off to Dicken's  A Christmas Carol with Mark and Erin and trying for the first time delicious Vietnamese Pho afterwards.  And last but not least, family party at Jen and Pete's incredible home with extended family, nieces and nephews grown with spouses, children, fiances, boyfriends and girlfriend gathered around the piano, Mark Alexander playing and singing Oh, Holy Night and then all of us joining in to sing Silent Night, the most sacred of Christmas songs.  I learned years ago while living in Germany that Silent Night is never to be blared through the speaker while shoppers scurry from store to store.  It is saved for Christmas Eve, to be sung among believers who will take this song into their hearts and reverence it there.
Christmas Eve has always been my favorite night of the year.  It started years ago as I watched my maternal Grandmother, Vernessa, prepare for this night.  She worked all year to witness the joy of her children's faces on this night.  How I loved to look at her white flocked tree with shiny lights and red bulbs hanging and to search out my gift.  How I loved to meet my favorite cousin, Judy, and sit next to her and watch everything she did.  And how I loved being together as a family, laughing, talking, eating, loving.  And because I remember how she looked in her apron, her voice and how she noticed me when I arrived, I am destined to pass that love on.  These ties that bind families are the very most sacred.
Temple Square following Christmas Concert, (missing Nate and Mary), Joe, Joanie, Michael, Elle, Alex, Allie, Katie, and Taylor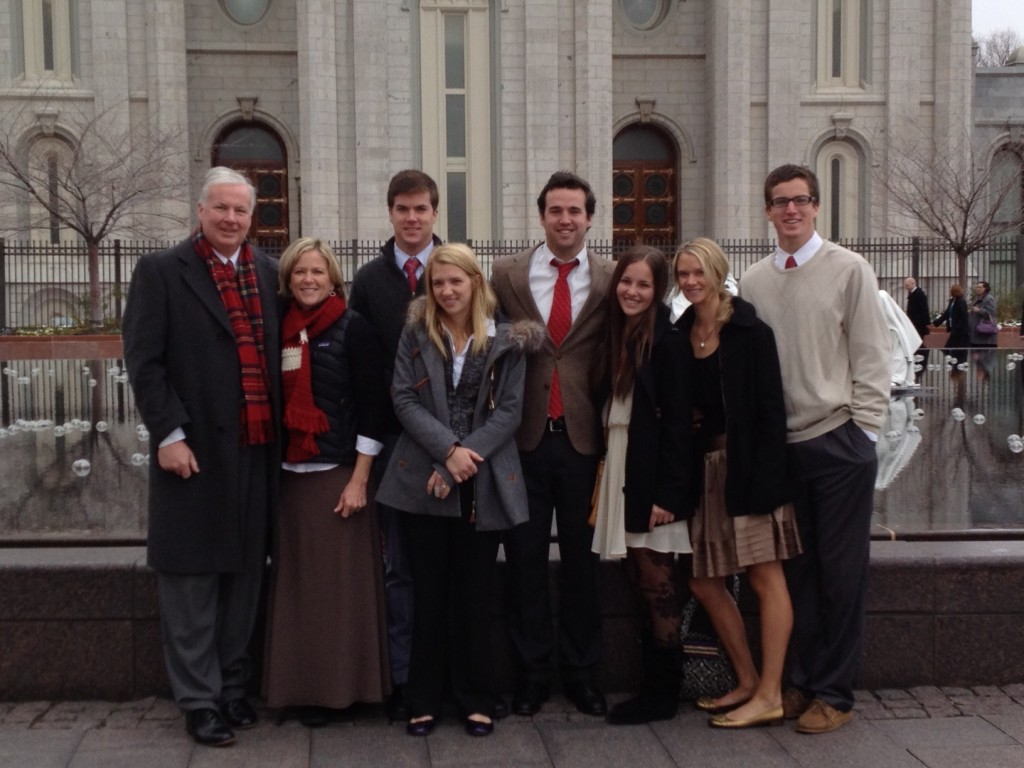 Visiting Santa w/ Mary, Maggie and Kate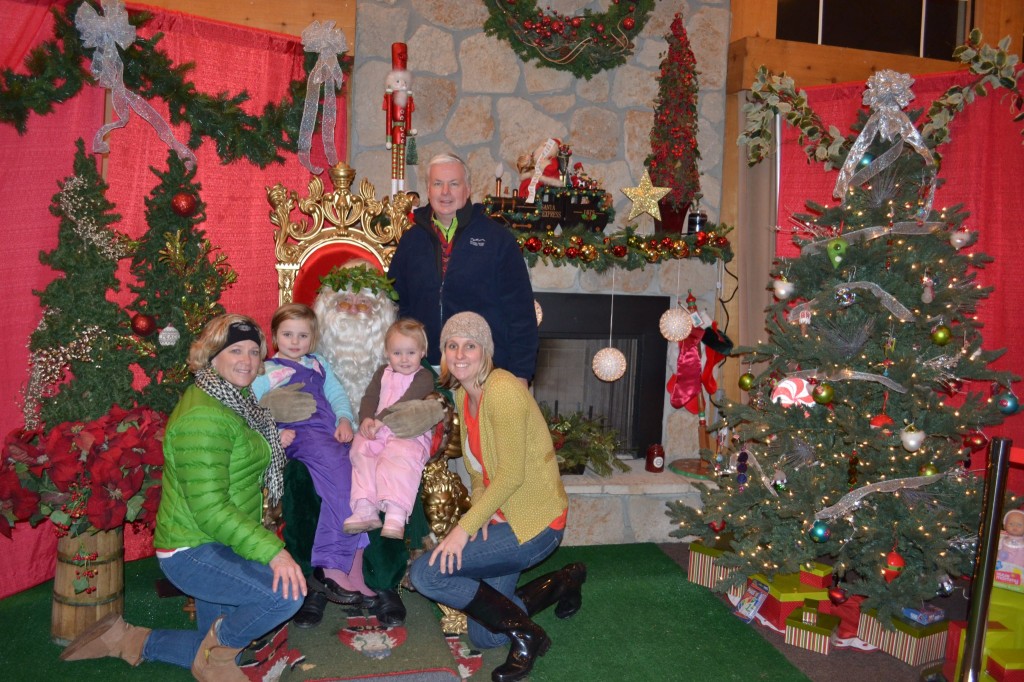 Angel Maggie at Wixom Family Christmas Party