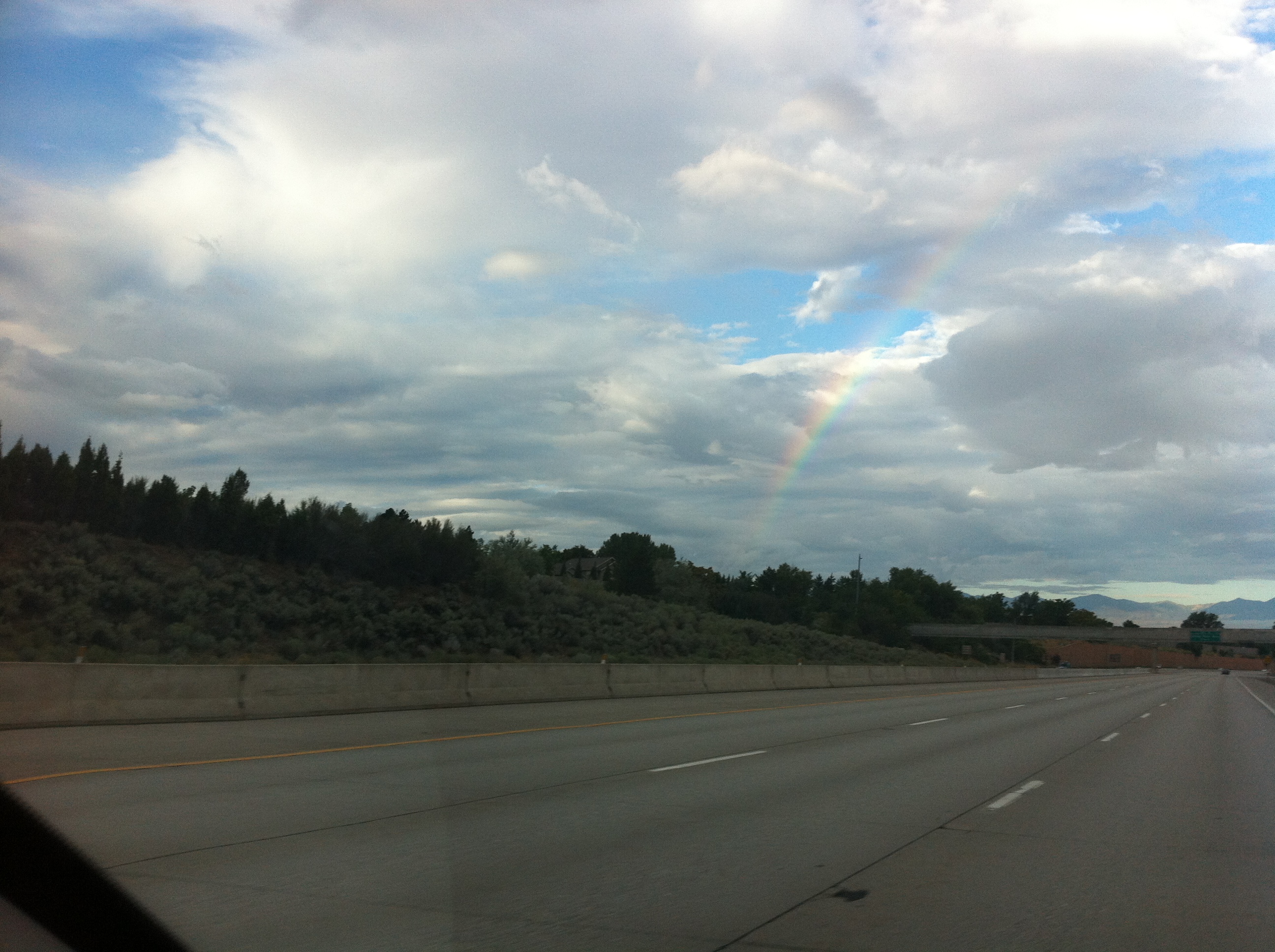 Rainbow in sky this morning
It's Monday morning and that mean tennis unless I am teaching.  Today as I drove there, a beautiful rainbow was over the western sky.  I took a picture while I was driving (never a good idea) but I really wanted to remember how the rainbow gave me hope.  On Mondays it's my favorite tennis group, Sue O., Donna and Cokie and we always have fun, sometimes we get a little competitive as Donna and Cokie like to beat Sue and I and Sue and I don't like to be beat.  We are definitely the under-dogs but we are increasing our wins against them slowly.
I am loving teaching again but I am surprised how tiring it can be.  It makes sense, you're up there in front of all these students, talking and being in charge the entire day.  One day, I started to get a little light headed.  I don't know what was going on but I felt like I might faint.  Hopefully, it was me just getting used to the rigors of teaching.  Of course, I always worry that it could be something scary like more cancer but I am praying that it is not. And then there are the hot-flashes- I was almost tempted to tell the students not to worry if they see me sweating "like a pig" but then I decided that no young person should have to know about that at this young age. I don't want to scar them or scare them.  They think the future is all bright and rosy and I hate to be the one to tell them it is not all roses.  I am, however, impressed with this group of student leaders in Community of Caring and I'm very so happy to associate with the students I have come to see demonstrating amazing behavior.  It is remarkable to me what kind of people there are in my classes.  They seem to be very mature for high school students with much aptitude for kindness and giving.  I know they're not all that way, but there are enough that show real concern for others and that amazes me.
It is wonderful to have Katie and Taylor married.  They are what I think about when I'm in my room teaching.  I must be the luckiest person in the world to have had all my children and their friends in my classes and the fact that I get to teach them about making a difference in the world is just a bonus.  I love that I live only 5 minutes away from my job and that I have a room all to myself, decorated how I want, a curriculum that I get to chose, and amazing students to rub shoulders with.  I have so much to be grateful for.
And then there is this little baby named Joseph that I can't get enough of.  I love to hold him but never really get to enough.  It's been hard to be able to just concentrate on him.  He is lovely and beautiful and it's so comforting to me to see how darling Mary is with him and how much he is loved by his big sisters.  I look at him and wonder what he will do in his life and it's such a pleasant thought.
Baby JoJo,  Baby Joe and Kate who can't get enough of loving him!