Quote of the Day:  "One day at a time- this is enough.  Do not look back and grieve over the past, for it is gone; and do not be troubled about the future, for it has not yet come.  Live in the present and make it so beautiful that it will be worth remembering."  Ida Scott Taylor
Michele Rossiter gave me this quote and I think it is so perfect for our lives.  I especially am worried by the future because with cancer there is always this fear that it might come back.  I'm guessing that it lessens over the years, but for me, at this time, it is fresh on my mind and it makes living to the fullest difficult so I am grateful to be reminded to "live in the present".  
Today, Joe and I headed out into the cold- it was about 24 degrees and as we started up the street for our warm-up, the wind blasted our faces.  We thought of heading east toward the mountain in the hope that maybe we would be more protected from the wind.  We ended up only going a mile before I went inside to do Stairmaster and Joe decided to head to Holladay.  First words out of his mouth as he came inside, "You missed it!" He had a nice run, the sun came up and he didn't hit wind again until he turned east to come home.  I love running in the winter, except for the wind- it's pretty amazing how you can exercise outside in almost any weather- at least where we live.  There are very few days that the temperatures dip too low to be able to bundle up warm enough.   It probably was for the best as my knee has been hurting a little this week.  Stairmaster is low impact and much easier on knee.  I played tennis 4x this week- very fun- I had sort of lost my drive to improve my game and when I play more, the drive returns.  It's so nice to have my life back in some areas.  
In talking about exercise, Alex told me of an article in the New York Times about exercising and memory called "How Exercise Benefits the Brain" by Gretchen Reynolds.  Basically, they test people who are sedentary against people who exercise and they found that people who exercise strenuously had higher levels of a protein known as brain-derived neurotrophic factor or BDNF. 
"So many studies have shown that exercise increases levels of BDNF," says Dr. Salehi. While he notes that other growth factors and body chemicals are "upregulated" by exercise, he believes BDNF holds the most promise."
"The one factor that shows the fastest, most consistent and greatest response is BDNF," he says. "It seems to be key to maintaining not just memory but skilled task performance."
…"But for everyone, the evidence is very, very strong that physical activity will increase BDNF levels and improve cognitive health."
I have always felt there was a strong correlation between strenuous exercise and cognitive health.  Runners will tell you that they are able to work through a myriad of issues and problems that need solving while exercising and the peculiar thing is that you don't have to be consciously thinking about that issue to understand it better after a run.  All around, exercising gives an emotional, cerebral boost that too few people dismiss.  It is an activity that many see as an "extra" to their day, if they have time, and it should be a priority!
Speaking of runners, yesterday the Mount Olympus Runners had their annual luncheon at Susie Beaudoin's and it was lovely.  I am so grateful for these friends who got me through 2011.  They love my hair and I love them!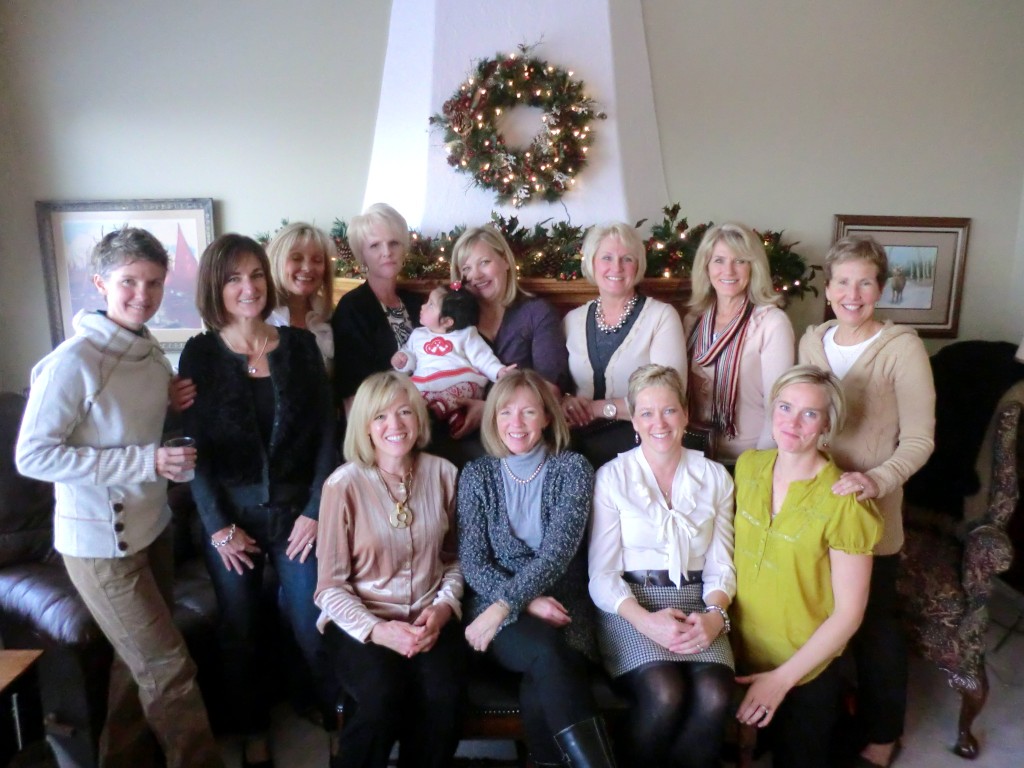 Susie's amazing feast, Sue Buehner and Susie Beaudoin