Quote of the Day:  "There are but two roads that lead to an important goal and to the doing of great things; strength and perseverance.  Strength is the lot of but a few privileged men; but austere perseverance, harsh and continuous, may be employed by the smallest of us and rarely fails of its purpose, for its silent power grows irresistibly greater with time."  Johann von Goethe
Earlier this week, my cousin, Judy, texted to invite me to climb Lone Peak with her and some friends on Wednesday.  Judy and I connected at our family reunion and had talked about getting together.  She is a runner also and in great shape.  Lone Peak looms beyond her home in Draper and so she must have been drawn to climb it.  From Wikipedia: "At 11,253 feet (3,430 m) elevation, it is one of the taller peaks in the Wasatch Range along the Wasatch Front and tends to be a favorite hike. Lone Peak consists almost entirely of quart monzonite (a granitoid, or granite-like) rock of the 30.5 million year old Little Cottonwood Stock."  Now, for years I have wanted to check it off my bucket list because Pat English recommended it as one of his "7 Summits of the Wasatch" Hikes.  Years ago, Joe and Nate headed off to hike it but on that day the rains came, filled up the open jeep with water, and they returned home absolutely drenched.  This is not a hike you would attempt unless under the best weather conditions.  I did some research the night before and was delighted to find that no one had ever fallen off the mountain to their death!  One site had posted some great pictures of the ridge and peak which proved helpful as we navigated our way to the top the next day. I woke up at 4:15 A.M. to get ready for this hike, arrived at Judy's at 5 and then we gathered her friends, spotted a car and then started up the Jacob's Ladder trail. We all were equipped with packs and poles for the steep ascent before one reaches the meadow.  The wildflowers were beautiful- lavender lupine, white geraniums, and purple asters to name a few. We hiked and hiked in the cool of morning and came to the meadow were we found the fork in the trail and we headed north.  Eventually, the trail ends and the trick is to follow cairns that lead you to the top.  The mountain is basically a boulder field from there on.  Judy's husband, Reed, cautioned Judy to go north which we thought we were doing but realized that we should have been going much, much more north.  We wandered around trying to find our way to the top.
Funny thing and small world.  I had a strong connection with both of Judy's friends, Laura and Elaine.  Elaine's in-laws lived next door to us for years and Laura is a good friend of Laurie Burt.  Laurie has been asking me for years if I had ever met Laura.  Mostly, I just loved getting to know them and catching up with Judy.  We love our connection with our Grandma Vernessa.  Judy commented on how Grandma always made you feel like you were her favorite.  It's true, I'm not sure how she did that but that was one of her gifts.
Here's what I learned on the hike that has to do with perspective and life.  The mountain is always changing from each vantage point.  When you are climbing a mountain, you are always looking for the peak, always trying to assess the best route, trying to gain some understanding of what it takes to get there, but the only way you can get there is by climbing over obstacles, in our case, boulders.  We climbed and climbed and even found ourselves in a very precarious steep part that we realized later we didn't need to do, there was a much easier way we just couldn't see it.  But isn't life about trying to figure it all out?  And just like this hike, the way is not always clear.  But then you turn around and see what you could not see before and there's this growth and feeling of satisfaction that you have arrived at this point.  Long story short, we arrived close to the top, left our packs and continued over the exposed boulders having hiked over 6 miles.  We were pretty sure we knew which rock was the top peak, but two of Judy's friends started to feel dizzy and so we rested for a few minutes.  We couldn't really see a way to get to the top boulder, it was extremely precarious but Elaine's daughter, Jenna, a senior in high school, kept trying to find a way.  She climbed over a rock and could see the marker for Lone Peak.  Now the rest of us just had to get there.  I'm not usually too nervous about heights but there was one rock that you had to scale around and then get yourself down from.  That about did me in.  I climbed down from it and was visible shaking.  All I could think of was that I would have to return that way.  But then I climbed over the next boulder and was on top.  The top is this square boulder that only a few could stand on at one time.  I stood right in the middle for a short minute and then felt better sitting down.  We all took our turns on top and then Judy took a planking pose to show her boys.  
It was exhilarating to have reached this peak.  The way down turned out to not be as bad as we imagined.  I ended up finding another way and by passed that one place that made me so nervous.  It took a long time to get back to our car.  In all we went about 14 miles.  I arrived home around 8 P.M. exhausted!
Wildflowers on the trail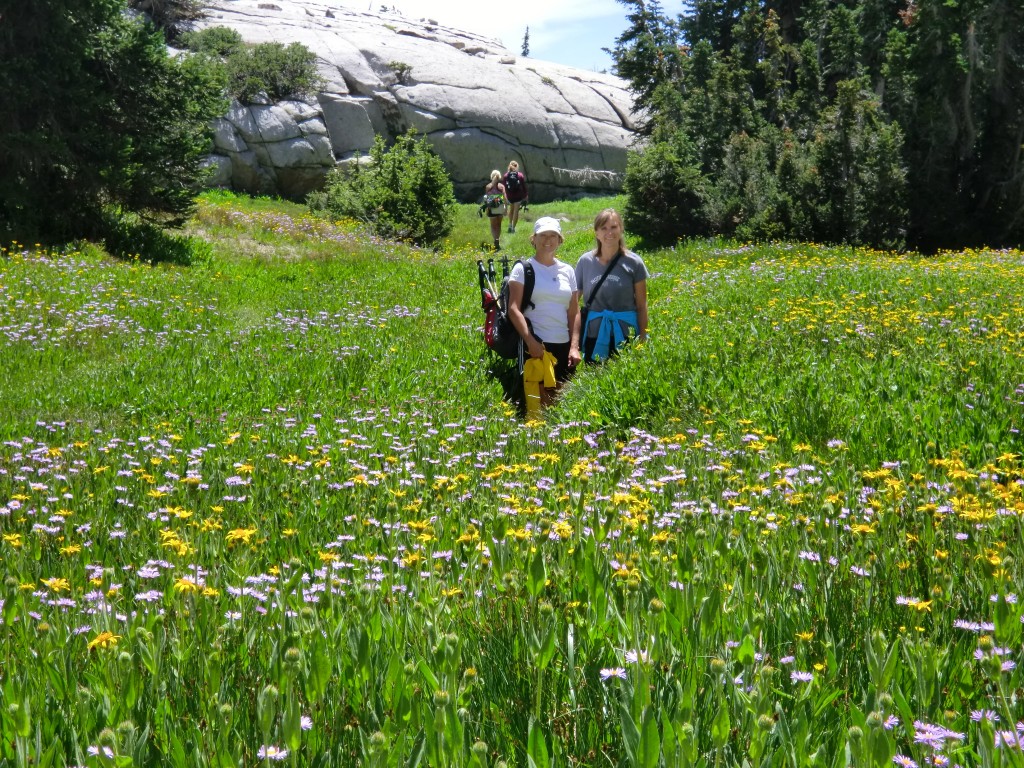 Our group on the way down, Laura, Judy, Joanie, Elaine, Jenna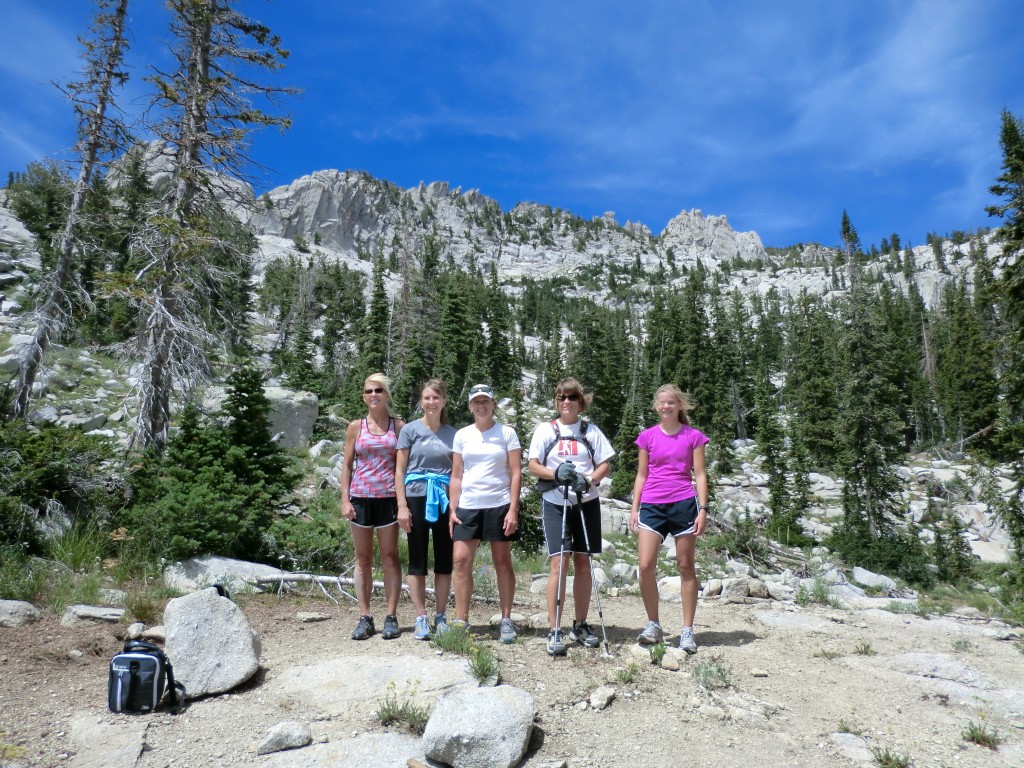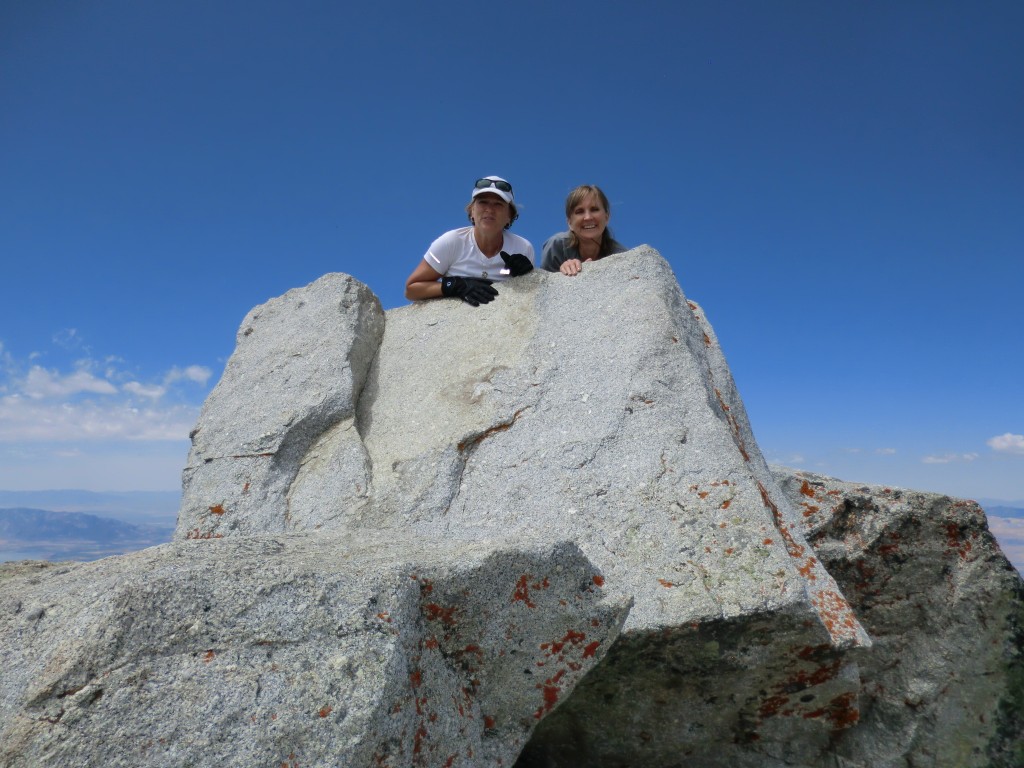 Joanie and Judy at the summit