Quote of the Day: Diseases can be our spiritual flat tires- disruptions in our lives that seem to be disasters at the time but end by redirecting our lives in a meaningful way.  Bernie S. Siegel
Exercise Log: 2.70 miles w/ Sue O. and Patti.  We went into Holladay and did a lot of hills coming back.  It was a good workout.  I like that nausea has to take a back seat when you're working out.  You know it's there but the exercising becomes your focal point.  (+.92).
Race for the Cure:  I am so touched by all of you that have signed up for Race for the Cure.  I am excited to walk/run as a group and to get a picture of everyone!!!  We will be sending instructions on where to meet.
This week is especially great because I get to talk to Taylor from Guatemala on Mother's Day.  In his e-mail this week he sent this message.  "Mom, I had a great fast for you yesterday. I will be praying for you. Don't you ever give up. Like you always told me we must do the thing we think we cannot. In Doctrine and Covenants 121 and 122 is when Joe Smith is in jail. It was such a hard time for him but he is told by God that all things will serve for our benefit in the world to come. I love you Mom, never get down. You're my inspiration and I will never give up because already your example to me in my life has shown me I can do anything."
My sister, Erin, is keeping great tabs on me during my chemo treatments.  She send me a plaque with the saying "If for a while the harder you try, the harder it gets, TAKE HEART.  So it has been with the best people who ever lived."   Jeffrey R. Holland.   Thanks Erin, I have your cute card and plaque right where I can see them!
Today is chemo #4.  Last time I have to watch them push the red adriamycin in my veins.  I'll be half-way through after this treatment.   It's like being at mile 13.1 of the marathon.  Now, if you have not run a marathon, you would think, wow- I'm half way there.  All I have to do is run that same distance again.  But, in a marathon, some would say mile 20 is about the half-way mark.  Some people hit a wall at somewhere around 20 and those last 6.2 miles can be grueling.  I love to get to mile 20 in a marathon. Then I know I'm good for the rest of it, even if I have to walk some of it.  One particular Ogden Marathon, I had kept a pretty slow pace so when I got to mile 20, I started to pick up the pace, also to change the rate that I was moving my muscles.  I started running faster and faster, and started passing a lot of people, which was exhilarating.  I finished on a high note.  Lesson learned:  sometimes we have more in us than we know and we just have to dig really deep.
I remember in Palm Springs in March, I was getting ready for my first treatment, and thinking what it would be like for my body, how I would react to the meds- all these worries and now I just finished #4.  It makes me so happy to be finished with four- well, I'll still have to deal w/ the nausea and tiredness these next two weeks but I'm on my way.  The next 4 treatments are taxol and you have less nausea but more body aches including muscle and bone aches.  They fill you up w/ steroids and meds to counter any allergic reaction that you might have to the taxol.  I guess it's not that uncommon to go into a kind of shock so they really watch you.  Another side effect is neuropathy-tingling in your fingers and toes due to nerve damage.  One thing that I have really noticed is how hard this is on my eyes- I don't have vision loss but my eyes are so… tired and right now I just need to go lie down and close them.
Susie Eichers stopped by to see Patti and I today while I was doing chemo. She is a neighbor who was also diagnosed w/ Triple Negative and is doing radiation right now.  She is about 3 months ahead of me in her treatment.  She is darling and a hero to me because she walks around with a beautiful bald head.  She said she's kind of a rebel.  I love that she has that kind of self-worth to be comfortable with embracing her baldness.
Patti was my chemo buddy today and I loved having her there, she was a real support to me.  She got really teary eyed when she watched all the procedures that I went through today.  It brought back memories of her Dad battling prostate cancer.  She wished she had known more about his situation and what he had to endure.  I think of Shauna Forsberg and Lynne a lot and wished, just like Patti with her Dad, that I had been aware of all that they were dealing with.  Life is quite the teacher!
Patti and I during chemo treatment # 4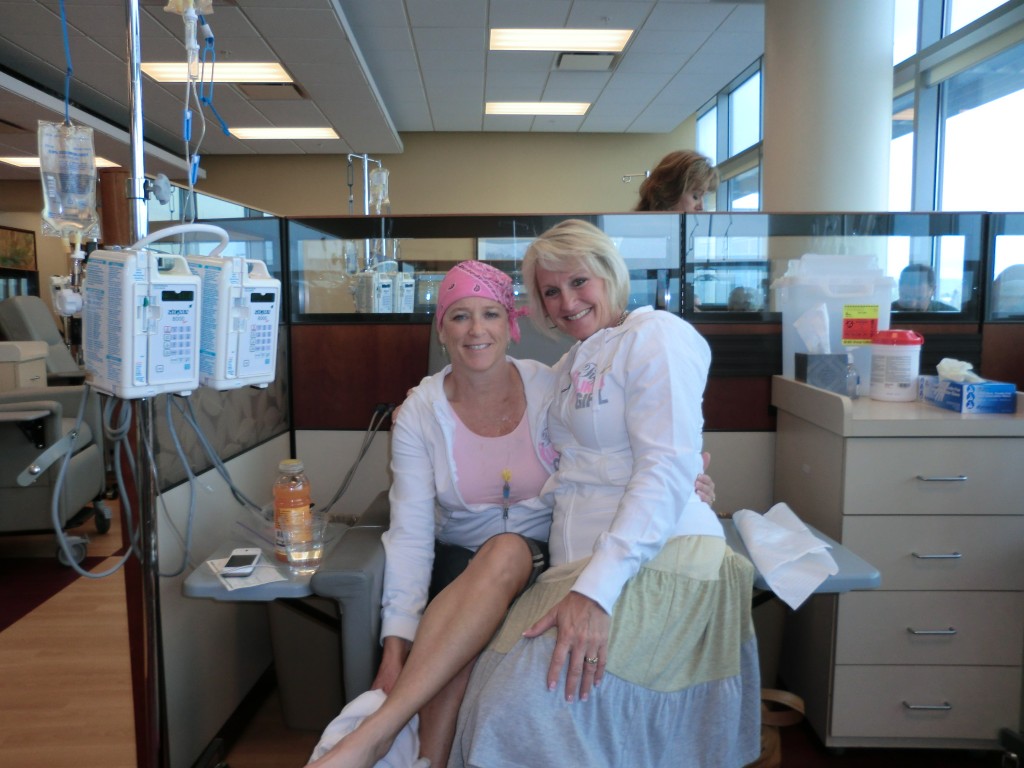 Picture of Donna, Joanie (w/ Zara wig), Sue O. and Cokie @ Hale Theatre Play