Quote of the Day:  I thank Thee, Lord, for blessings, big and small; for spring's warm glow and songbird's welcome call; For autumn's hue and winter's white snow shawl.  I thank thee for the harvest rich with grain; For tall trees and the quiet shadowed lane; For rushing stream, for birds that love to fly; My country's land, the mountains and the plain.  I thank Thee for each sunset in the sky.  For sleepy nights, the bed in which I lie; A life of truth and peach; a woman's hand, Her hand in mine until the day I die.  I thank Thee, Lord for all these things above; But most of all I thank Thee for Thy Love.  Ralph Gaither (written while a POW in North Vietnam)
On Wednesday, we got to the hospital early and they got me right into a room and started to get me prepped for surgery.  I have a fear of needles and you'd think with all the surgeries and blood work I've had done that it would become easier to deal with but really it has not.  They had trouble finding a vein for the IV and poked around a bit and then called for another nurse to help.  Finally, they got that in and then we waited as surgery was delayed.  After about 2 hours, they wheeled me up to the alcove next to the surgical room and I watched as they cleaned the room preparing for my surgery.  I further watched as they wheeled the patient out and couldn't help but think about her surgery.  For some reason, it had taken longer than they expected.  My doctor told me that they send part of the tissue they are removing across the hall to pathology to determine if they need to do additional procedures-perhaps they see something unexpected.  As you are signing the forms giving them permission to do extra work if needed, you can't help but hope and pray that you will not need this extra surgery.  They tell you a few times that you won't be able to become pregnant once you've had this surgery.  I guess it's happened that someone thought that once their uterus was removed, they could still have children.  Joe responded:  "We can still have grandchildren though, right?"  
I am happy to say that my surgery went smoothly, all the parts they removed were healthy and would only need removal because of the BRCA 1 gene.  It was hard to wait as my surgery was in total delayed 3 hours, mentally I was kind of spent, but so grateful that this was a prophylactic (preventative) surgery.  
I came out of surgery to find a very nice male nurse trying to wake me up.  It was the opposite experience that I had when in post-op following the mastectomy.  He was kind, considerate, helpful, and explained everything that was going on and got me right into a room.  When I got to my room, Mary was there and helped me get some items that I needed.  Mary is amazing- she is such a comfort to me.  She is a nurse and works at IMC in the Cardiac Care Unit.  She, Maggie and Kate had a lemonade stand to raise $ for cancer research the other day.  She is teaching her girls all about caring and giving back.
I was still so groggy when my family came to visit that evening.  Maggie had been warned by her parents that she had to be very careful of me and so came right into the room, passed by my bed and said "Hi Alex" (she has a mad crush on Alex, anyway).  Maggie was fascinated by all the machines in the room.  She wanted to know what each machine did and curiously looked at everything.  I listened to my family talk and looked at them and kept thinking someone was missing and indeed there was- Taylor.  I kept thinking about Taylor and how hard it is to be away, removed from everything, knowing your parent is having surgery and also knowing that you need to rely on faith that all will be well.  Taylor is the guy for the job.  He has always been a very stalwart soul.  I loved hearing my family laugh and talk.  They really are very clever and funny and enjoy being together.  
So in closing today, I have to say how grateful I am to be alive.  I have very little pain.  Joe said this morning that it feels like a miracle that my surgery went so well with so little pain and I agree.  He attributes it to Taylor's obedience.  They gave me some pain meds after surgery but after midnight on the first night all I have needed is a little ibuprofen and I took that just because I thought maybe pain would be coming.  The nurses kept asking me if I was in pain, and I just said "I'm not".  One nurse, also a runner, said that endurance athletes have a high threshold of pain- haven't been called that for a while! I can stand up straight and I have pretty good energy and really so grateful to have # 4 big deal behind me!!!
Getting prepped for surgery-  October 5, 2011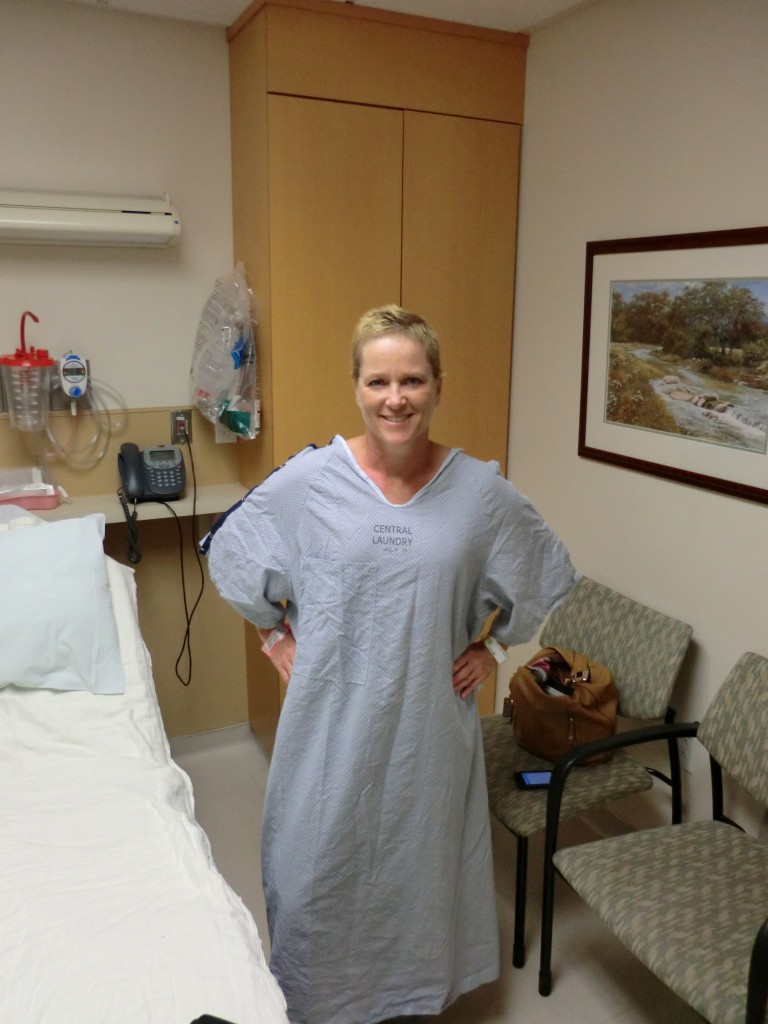 Little Miss Curious Maggie- playing soccer