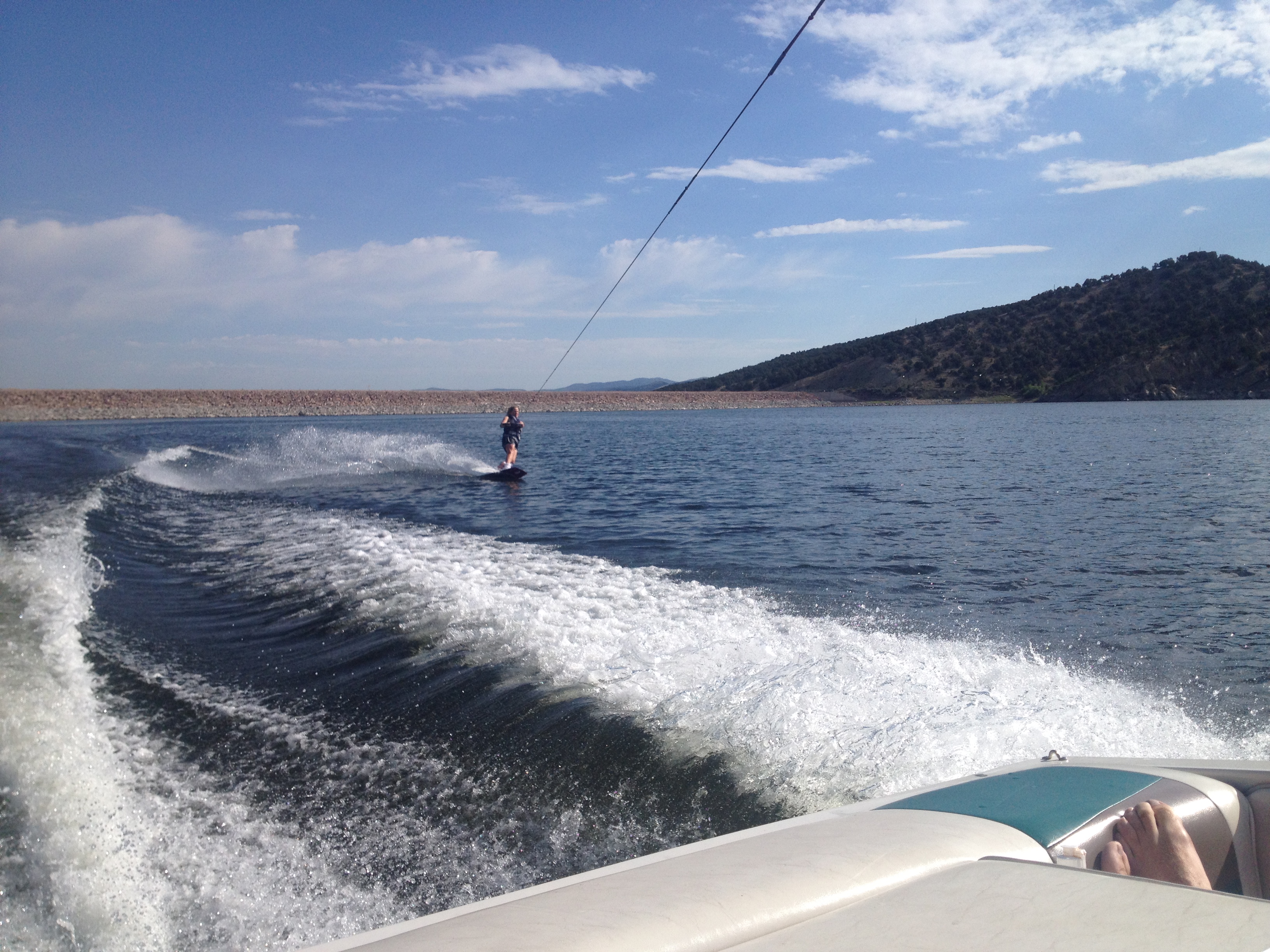 Joanie- wake-boarding at Rockport Reservoir
My head still hurts.  Every now and then I get this wave of motion inside my head.  I pray that it is part of the healing process.  I don't know the side effects of the radiation treatment- Gamma Knife- that was done in February, about 4 weeks after surgery but I do know there are some.  Maybe I didn't want to ask for fear of the answer and I certainly won't go on the internet to find out.  That is a scary place when you have cancer.  There is so much information and it might not apply to your individual case but once you read information, usually scary, you find yourself dwelling on it.  Next week, I go for an MRI, 3 months since the last one, and they will look at how my brain is healing and/or if there are any other signs of cancer.  I always get very anxious before these tests.  The outcome will either leave me with hope or dread, so the stakes are very high.  I have to say that, other than the occasional headache or sensation within my brain, and lately I have been feeling a bit weak-kneed but other than that my body feels really healthy.  In the meantime, I am trying my best to live a full life.
This has been a very fun 4th of July weekend.  Joe, Alex, Taylor, Kate and I got up early on Friday morning and headed to Rockport Reservoir for water-skiing and wake-boarding.  Much to our surprise, there were few people on the lake, even though it was a holiday and the water was pretty smooth.  Katie got into the water first for a ski run.  She is an amazing athlete and can do any activity or sport.  She loves physical activity so she is the perfect match for Taylor.  Everyone had their turn on the wakeboard and Alex kept encouraging me to go so I finally got in and I'm so glad that I did.  I always get nervous thinking about activities that involve me hitting my head- like wake-boarding- but I did it and it was totally doable, very empowering and very fun.  The water felt great.  There is nothing like jumping into a mountain lake during the summer.  We headed into Kamas on our way home and ate lunch at the Gateway Grill.
Yesterday, Saturday, Joe, Taylor, Alex and I went mountain biking at Snow Basin.  We got up early again and headed out the door knowing that it would be hot on the trail as we finished our rides.  Once again, fear of hitting my head but luckily helmets are standard equipment on a bike.  I love my mountain bike, Joe gave it to me for Christmas a few years ago.  I started on the trail and it was steep at the beginning, leaving me feeling like I was really out of shape.  Pretty soon, we got to the single track which I love but there were a lot of rocks on this trail.  Here's what I learned, don't fear the rocks so much, you are better if you go right through them and don't try to slow down or stop.  Keep your eyes ahead and believe that you can make it through and you will and don't panic.  By the end of our ride, I was so much more confident about dealing with the rocks.  The sharp curves were another issue though.  I need to really practice those and learn how to use my breaks correctly on those turns.  But really, isn't that like life.  We will surely have rocks so we might as well just get through them and not panic!
I am so grateful to live in this beautiful place- so much recreation around us and I'm grateful that I have the opportunity to push myself in ways that let me feel empowered and alive!
Joanie-mountain biking at Snow Basin