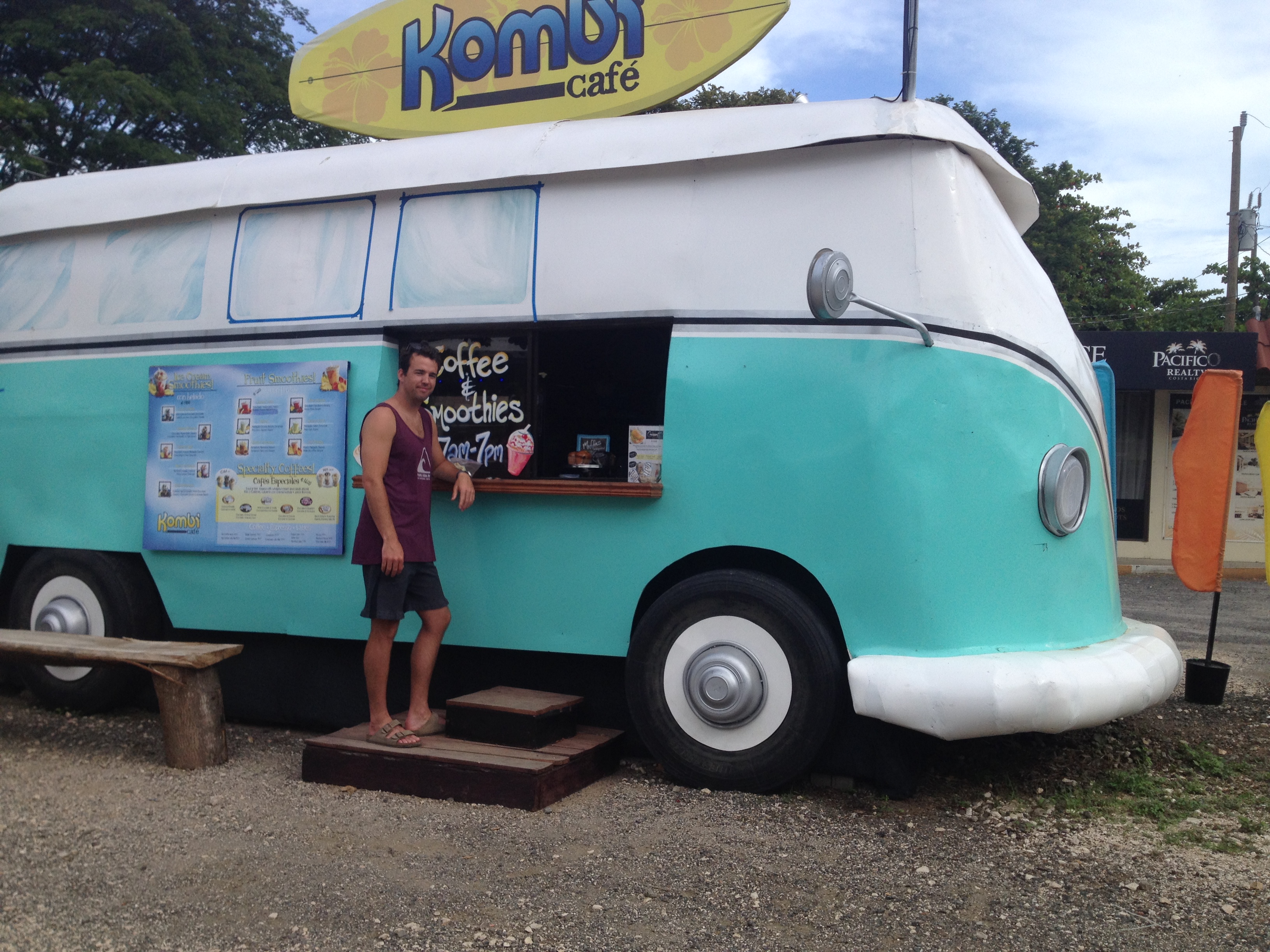 Alex waiting for his Tamarindo smoothie!
I thought when school got out the first week of June that life would slow down.  Didn't happen.  I know it's my own fault for wanting to get the most out of my summer but I also envisioned that I would be able to lounge around just a little bit.  To start the summer off, Joe, Alex and I headed south to Costa Rica.  Really, I'm pretty sure it was the perfect trip.  It was a slow time in Costa Rica, apparently this is the rainy season (we only had rain one day).  And so we, pretty much, never had to wait for anything including restaurants, boat tours and even found a beach or two where we were the only inhabitants for part of the day.  It was lovely!  We used every opportunity to make the most of our days.  The sun came up early, shining through our windows right after 5:00 A.M.  We would start the day walking along the beach and then we were off for adventure.  We became frequent visitors at what soon became our favorite German Bakery and a delicious smoothie maker inside a bus.  Highlights of the trip included a boat tour with crocodiles, a million birds (bird island), and howler monkey colony, not to forget the lovely dragon fly that landed on my hand but was off too soon to capture a picture.  Visiting volcanos Arenal and Rincon, tubing down a river, sometimes in whitewater, with a huge annoying group, getting separated from Alex and Joe.  Canopy touring through the rainforest and narrow canyons, missing the platform twice (guides did on purpose) and going back and forth on the Tarzan swing.  Swimming in every lovely beach, clear and clean water, black sand and feeling the rhythm of the waves move me back and forth.  Hearing the deep gutteral sounds of the Alpha Male Howler Monkey leaving Pence Beach.  Finding Danta Beach (went there with my mom and sisters two years before) and recognizing all the really cool aspects of this incredible beach, swings, chairs, tables and food.  Treading water for nearly one hour while practicing paddle-boarding balancing.  Eating salad and kale at the lovely restaurants.  Riding our bikes to the Monkey Farm (thumbs down to the Monkey Farm- what a hoax!).  Alex taking advantage of the amazing mountain biking trail and communicating with the locals after being stung by a jelly-fish while snorkeling.  Pulling some crazy students out of the deep water hole they tried to drive through.  Standing high on the rock looking over Palo Verde National Park (having to wait for the large birds to leave who called those rocks home- they did, however, continue to circle in the sky while we invaded their territory).  Everyday there were these moments of grace when everything fell in place.
And I offered prayers of gratitude for living and loving life.  That I would get to spend this time, five months after finding a metastatic tumor in my brain, happily going along looking for adventure, wishing I had opened the package of the Spanish Rosetta Stone and worked on a few phrases.
Joe and I at The Carolinas!  Great find by the Rio Celeste River!