Happy Birthday, Linda!
Quote of the Day:  "We are a team.  One person struggles, we all struggle,.  One person triumphs, we all triumph."  Coach Carter (movie)
Exercise Log:  This morning at 6 A.M. after that amazing storm last night with thunder, lightening and rain, the air was clean and crisp and lawns and flower beds were gorgeous, we took to the roads.  Jen, Sue O. and I went 3.01 and then I came home and did another 3 on stairmaster (-2.01).  I plan to get that even tonight on stairmaster.
Today was chemo # 7  with Sue O. as my chemo-buddy.  I had Michelle as my nurse and the place was quiet, it wasn't the busy place that Tuesdays usually are at the IMC cancer center.  Sue and I took a private room and all went well.  We were in at 9 A.M. and back out again at 1:30 P.M.  Next time, bell ringing for me.  As Maggie says "One more, last" and that has become my mantra.  I loved having Sue with me.  Joe ran over and got us our favorite salad, Voodoo Chicken, at Rumbis.  The time flew by for me.  Sue taught me how to play Bonanhza.   So I am officially at mile 23 of this chemo marathon.  I can almost taste the medal at the end of the race.  Actually, that is kind of funny, because if the medal was metal, I really can taste it.  But, in total, I have logged 362.1 miles for 71 days equivalent to 13.82 marathon distances!  I think the exercise is saving me.  My numbers look good and that may make it possible to have the mastectomy and recover before Mike and Elle get hitched on August 4.  I asked the PA today at the doctor's office if he thought that would be possible and he said that middle of July would be better because I would be further out from chemo.  He said the worry is the risk of infection after an operation and since chemo makes your resistance lower, that's the issue.  Oh, I hadn't thought of that!
Thanks to Patti Sargent for the heartfelt card and subscription to Real Simple Magazine- can't wait!  Thanks also Mauritia and Tom for the continued massages that make this journey so much easier and so enjoyable.  And to Cokie and Donna for bringing my family dinner tonight.  Salmon, variety of berries, rice and green salad.  It was delicious.  I think this chemo is easier on the taste buds also. Everyone is so busy and yet they give up their time to make life easier for us.  We so appreciate it.  I was so happy to get a telephone call from Tiffany Parker, who is a step-niece to me.  She lost her mother to breast cancer at 48 so is going to be very proactive about her own health and check-ups.  She is a high school art teacher near Pasadena.  I loved talking with her and am so impressed with all she is doing.  I am so touched by the calls and notes and there is not a day that goes by that someone does not reach out to me.  It brings tears to my eyes.  We really hear so much about the tragedies of life and meanness of humans and really that is not the way most people live.  Most people are looking out for their neighbors and family members and would give what they have to help another.
Talk about support- Last night we had our 4-Season's friends' shower for Daniel and Aubrey, Mike and Elle at Fred and Kelleen Leslie's house.  Look at the number of children we've created!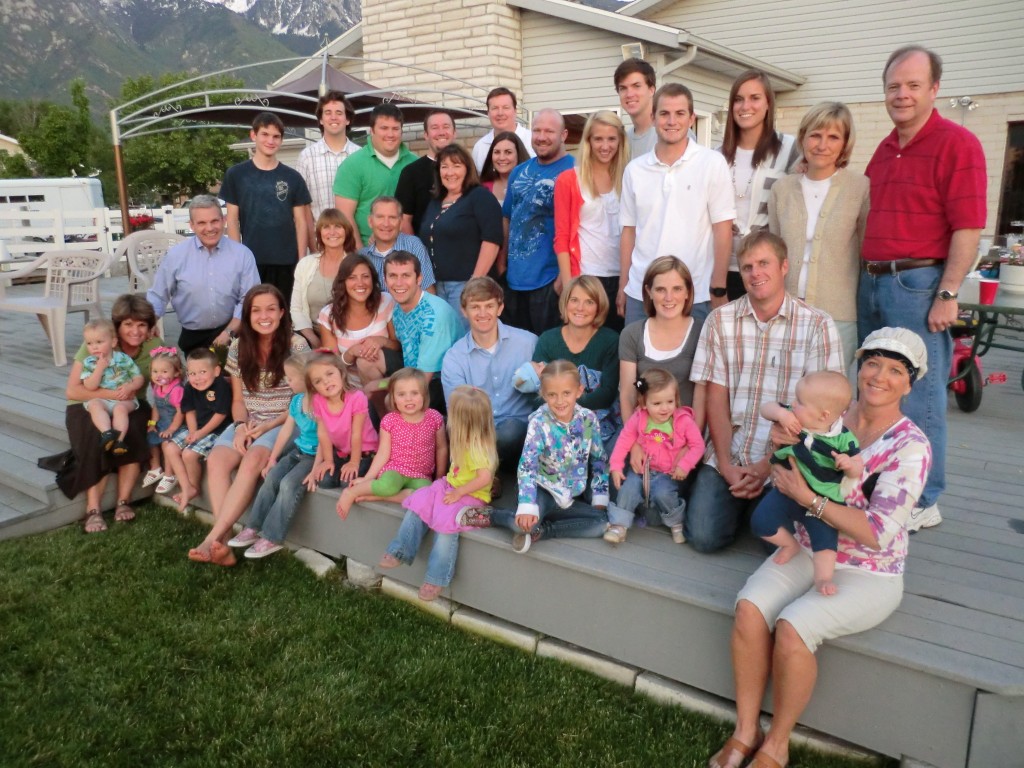 Sue O. and I at chemo # 7.   Sue's goofing with my machine!